Closing the Loophole for Minnesota's Largest Payday Lenders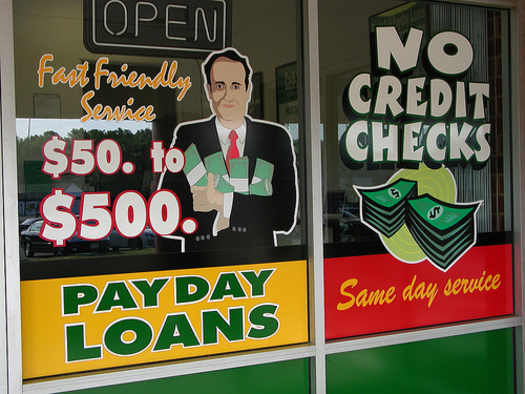 PHOTO: There is a push underway to change state law allowing the largest payday lenders charge higher rates and fees than others. Faith leaders say the costs take advantage of those who can least afford it. CREDIT: Taber Andrew Bain
July 12, 2013
MINNEAPOLIS – Faith leaders in Minnesota plan to pursue legislation next year to close a loophole that they say allows large payday lenders in the state to charge over-the-top interest rates.

Rev. Alison Killeen, director of organizing and practical theology with the Joint Religious Legislative Coalition, says those who turn to such lenders are often the most vulnerable.

"What will happen is people will get stuck into a spiral of debt, being unable to pay off larger and larger amounts," she explains. "And we've heard stories of folks taking out loans at one payday lender to be able to pay of the next, and they get stuck in this chain of increasing debt."

Killeen says Minnesota payday law caps the annual percentage rate at about 350 percent, but some payday lenders are large enough to operate as an industrial loan and thrift. That allows them to charge what equals an APR of more than 1,000 percent.

In addition to closing the industrial loan and thrift loophole, Killeen says other payday laws may need to be amended as well.

"For example, that if maybe people take out three consecutive loans," she explains, "perhaps we require that they be moved into a more accessible installment loan plan, so that people can pay it off over a longer period of time."

Among the supporters of legislative fixes to the payday lending laws is Rev. Jay Carlson at Holy Trinity Lutheran Church. The church in south Minneapolis has five payday lenders within a half-mile radius.

Carlson says since the need is there, his church is considering a plan for a type of community loan fund.

"We've got work to do," he says. "But our hope is to provide loans that if they're paid back right away, they'd essentially be free loans without any interest rate.

"But if they're not able to be paid back right away there would be a fee, that then would be forgivable. It would be paid back as part of a savings program."

This Sunday, Holy Trinity and the Joint Religious Legislative Coalition are hosting A Day on the Grill at the church to share information on the issues surrounding poverty and payday loans.






John Michaelson, Public News Service - MN