Free Fencing Help to Make Bison Better Neighbors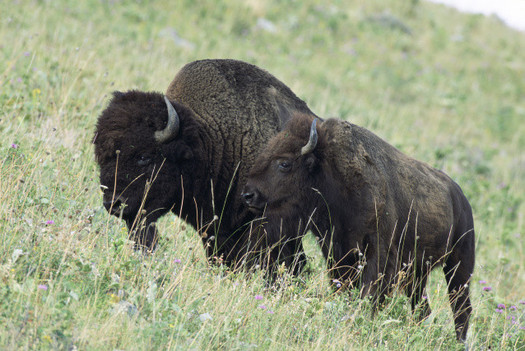 PHOTO: Bison and calf. Photo credit: USFWS
August 24, 2012
GARDINER, Mont. – Hungry, itchy bison can spell trouble for property owners in the Yellowstone area. So, four conservation groups are offering assistance to pay for fencing to keep the big animals at bay. Mark Pearson, conservation program director of the Greater Yellowstone Coalition (GYC), says bison roam outside the park every year for a few weeks in search of food.

"In the spring, when they're trying to rub all their winter fur off. When they're itchy, they'll come up and rub against houses and rub on trees and things like that, so that's a concern."

Pearson says the fencing provides a way to coexist with the bison, instead of hazing the animals or shooting them - which has been the policy in recent years. A state proposal would expand the areas outside the park where bison would be allowed to roam. Public comments on the plan are being accepted through Monday (Aug. 24).

The fencing assistance covers 50 percent of the cost of the project, up to $1,000. Pearson says the bison fencing is designed not to harm other critters, such as pronghorn. And while he expects they'll help 10 to 15 property owners, not all want the help.

"Probably an equal, or larger number of landowners, that really don't have any concerns at all. They enjoy having the bison out in the front yard for a few weeks out of the year, and think that's kind of a cool thing."

Groups assisting GYC with the grants include the Sierra Club, Defenders of Wildlife and the Natural Resources Defense Council. Those interested in fencing assistance can call Montana Fish, Wildlife and Parks at 406-994-3540.


Deborah Courson Smith/Deb Courson Smith, Public News Service - MT