30% of Eligible CT Voters at Risk of "Just Watching" on Election Day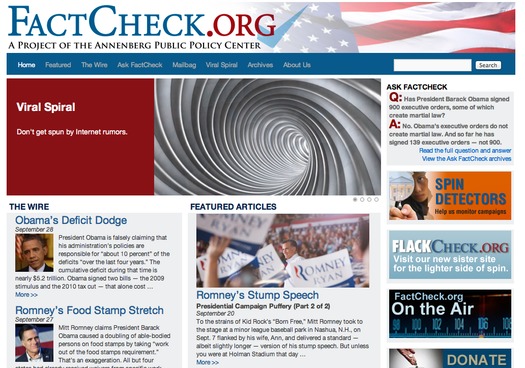 GRAPHIC: The content of political ads needs to be double-checked with reliable sources, like the website 'factcheck.org.'
October 3, 2012
HARTFORD, Conn. - The presidential candidates finally meet tonight in their first nationally broadcast debate, and one local group is hard at work making sure that as many as 1 million Connecticut residents won't stay on the sidelines on Election Day.

Pat Donovan, vice president for voter services at the League of Voters of Connecticut, has been keeping a close watch on the secretary of the state's numbers and says she's concerned that 30 percent of the state's eligible voters still have not registered.

"And if you are one of the one in three, the League of Women Voters is urging you to take this important step: Register and vote."

Donovan says the importance of a single vote was underscored in Connecticut on Tuesday, when voters in the 5th State House District had to go back to the polls because the original ballot in September ended up in a tie vote.

For those watching the presidential debate tonight, Donovan says the League of Women Voters of Connecticut website has a helpful video with tips on how to watch a televised debate.

"Take your time and look at what are the hand motions? Are the candidates really answering the questions that were asked? Things like that, so you can make a more informed decision."

Political action committees have spent record amounts of money in the 2012 election to influence voters. Donovan says the content of all those political ads needs to be double-checked with reliable sources, such as the website factcheck.org.

"We are encouraging any interested citizen to write to their newspapers and to their TV stations and ask them, 'Please check these ads, and not allow such distortions to come across the screen.' "

Residents who still need to register can get the necessary forms at libraries, town halls and motor vehicle offices. More information is online at the League of Women Voters of Connecticut website, lwvct.org.

Connecticut residents have until the end of the month to register to vote.