Sportsmen: Conservation as Important as Gun Rights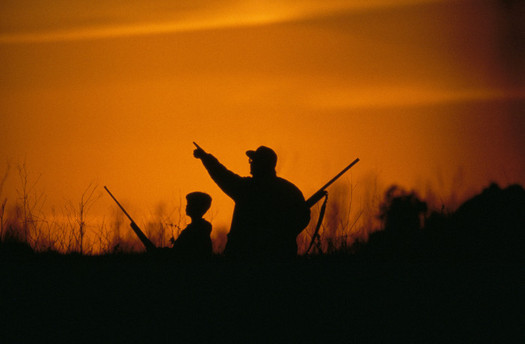 PHOTO: Man and youth hunting at sunrise. Photo credit: USFWS
October 8, 2012
YANKTON, S.D. - Conservation is just as important as gun rights, according to a poll of sportsmen by the National Wildlife Federation. Nearly half said those two priorities have equal weight. And given a choice between prioritizing oil and gas production or protecting public lands, 35 percent chose the fuel and 49 percent chose the public lands.

John Gale, regional representative with the NWF, says that's encouraging.

"Most Americans are still reasonable people that value things like public lands, like fish and wildlife habitat."

In South Dakota - where oil and gas isn't a big issue - maintaining and improving access to public lands ranked high on the priority list. NWF says millions of acres of public land across the country are surrounded by private land, which discourages or prevents their use.

More than two-thirds of the sportsmen polled said the U.S. should work to reduce carbon emissions, update the 140-year-old national mining law, and expand and strengthen the Clean Water Act. The findings don't surprise Gale, who calls sportsmen "the original conservationists."

"We regard ourselves as stewards of the land because we have such a strong connection to it. We understand at a fundamental level that if you take care of the land, then the land will take care of you. And if you take care of fish and wildlife habitat, the hunting and fishing will take care of itself."

Before adjourning, the U.S. Senate voted to consider the Sportsmen's Act of 2012, a package of 19 bills, as one of the first orders of business after the elections. It focuses on conservation funding and public lands access. The House already passed its version of the legislation in April.

Forty-two percent of respondents to the NWF poll said they were Republicans, 32 percent Independents, and 18 percent Democrats.

More information on the poll is at www.nwf.org.

The legislation is the Sportsmen's Act of 2012, S 3525 and HR 4089.


Jerry Oster, Public News Service - SD