Health Education Seen as Key to Child Health in NC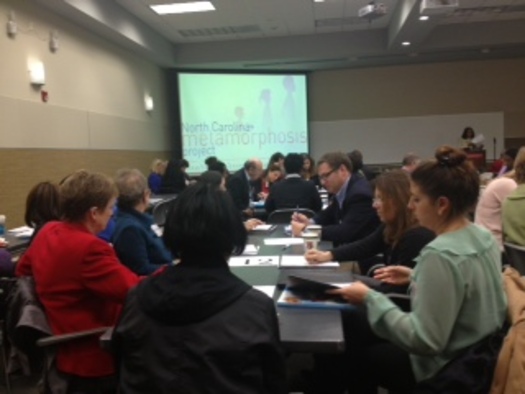 Photo: Adolescent Health Summit. Courtesy: The Duke Endowment Fund
November 28, 2012
RALEIGH, N.C. - Health education is a primary factor in keeping North Carolina's children healthy. That was the consensus at a meeting of health care professionals and advocates at the Adolescent Health Summit held in Raleigh on Tuesday. Among the positive news discussed: a drop in the rates of youth smoking and of teen pregnancy.

Rob Thompson, executive director of the Covenant with North Carolina's Children Education Fund, said success is born out of working together.

"When policy makers work in coordination with those health professionals, we can really make a big dent in public health problems in the state, and we've seen that with adolescent smoking and adolescent pregnancy prevention."

In the past five years, there's been a 39 percent decrease in teen pregnancy in North Carolina and an 18 percent reduction in smoking.

State lawmakers cut funding to the state's smoking-prevention programs in the past two budget sessions, so Thompson says there is concern that the decrease in youth smoking could be short-lived.

In a report card released Tuesday by Action for Children North Carolina and the North Carolina Institute of Medicine, North Carolina gets a "B" when it comes to health insurance coverage for children, but a "D" when it comes to the number of children in poverty. Thompson says exposing children to the right resources can make all the difference.

"Children are going to make decisions based on the information that they have, and it's our responsibility as adults to make sure that they have accurate information about the consequences of decisions they're going to make."

There are 2.3 million children living in North Carolina. The Adolescent Health Summit was part of the North Carolina Metamorphosis Project, funded by The Duke Endowment, with a goal of improving the health of adolescents in the state.

Link to Report Card released Tuesday at pulse.ncpolicywatch.org.

Reporting for this story by North Carolina News Connection in association with Media in the Public Interest. Media in the Public Interest is funded in part by Z. Smith Reynolds Foundation.