Minnesota Seniors Try To Keep Footing at Edge of "Fiscal Cliff"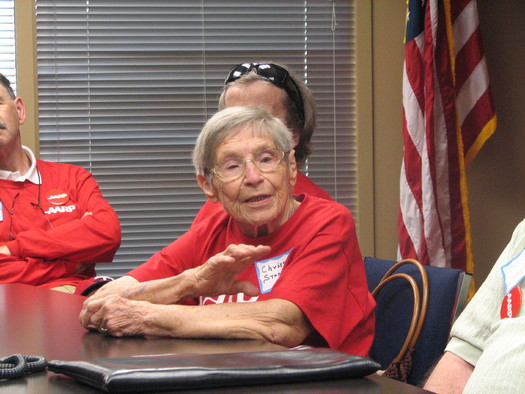 PHOTO: AARP Minnesota is urging Congress to leave Social Security and Medicare out of any last minute budget deals, as the so-called "fiscal cliff" continues to inch closer. Courtesy of AARP MN.
December 7, 2012
ST. PAUL, Minn. – As the debate continues in Washington over what to do about the looming "fiscal cliff," concerns are being raised that changes to Social Security and Medicare could be crammed into a year-end budget deal.

Amy McDonough, advocacy director with AARP Minnesota, is in the nation's capital this week to tell the state's congressional delegation to not burden seniors further by reducing their benefits.

"For seniors, what this could mean is a really speeded-up Social Security cost of living adjustment change that would cut benefits. This cut could mean $112 billion over the next 10 years out of the pockets of beneficiaries. So it's something that we're urging seniors to pay close attention to."

In Minnesota, there are nearly 660,000 seniors who currently receive Social Security. They would lose nearly $1.9 billion over the next 10 years if a change were made in how the cost of living adjustments are calculated.

McDonough says the average benefit for those recipients is just over $14,000 dollars a year, and a good chunk of those seniors rely on every dollar.

"For many of them it's the main source of income. And we also know that for many of them, it's what keeps them out of poverty. So, it's been a very successful program in helping seniors remain independent."

There's also talk in the nation's capital, says McDonough, about whether to raise the eligibility age for Medicare from 65 to 67.

"And we know that health care costs are very high for people in their 50s and 60s already, so the cost of waiting a couple more years to get on Medicare could be very significant for people who are trying to figure out how to obtain affordable health care coverage right now in those older years."

If the eligibility age were raised, McDonough says, it would leave nearly 90,000 Minnesota seniors waiting to get on Medicare and without health coverage.



John Michaelson, Public News Service - MN