Prospecting near Mt. St. Helens Takes Another Step Forward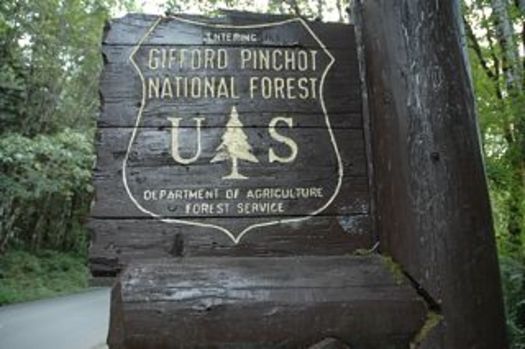 PHOTO: Gold mines in the Gifford-Pinchot Nat'l. Forest? One company wants to find out, and despite local opposition, has just gotten the approval it needs for exploratory drilling. Courtesy U.S. Forest Service.
December 21, 2012
Portland, OR - Exploring for gold in the Mount St. Helens area could be a financial lifeline or an environmental blight, depending on your point of view. Either way, the Bureau of Land Management (BLM) and Forest Service have now both cleared the way for it on about 900 acres in southwest Washington.

The BLM issued its decision late Thursday, allowing a Canadian company to drill on what it calls 23 "pad sites," each less than 400 square feet.

Bob Dingethal is executive director of Gifford Pinchot Task Force, a local group that has been vocal in its concerns about the potential effects of mining to clean water and tourism in the area.

"We have the Green River there, which is extremely popular for fly-fishing that would be right within the zone of the mine. And you have Ryan Lake, which is this blossoming new ecosystem right at the end of the blast zone that's come back in a magnificent way."

Opponents of the mineral exploration say the land was added to the Gifford Pinchot National Forest using money from the Land and Water Conservation Fund, and is supposed to be managed for conservation and recreation. The company proposing the drilling says mining could result in hundreds of local jobs, but the towns of Castle Rock, Kelso and Longview also have voiced their opposition.

The company, Ascot Resources of Vancouver, British Columbia, doesn't develop mines – it's a speculator that explores the mineral potential of sites on behalf of investors. The BLM permit allows it to drill for core samples to see if there's enough silver, gold, copper or other minerals to sell mining rights to a bigger company.

If that happens, says Dingethal, the locals are in trouble.

"Mining companies, there's not that many of them – they're deep pockets and lots of lawyers. So, if it gets to that point, we see it being an enormous struggle – something that would be difficult for us, the Forest Service or even very strong Northwestern political leadership – to fight off."

The BLM says most of the land in the claim is in the so-called "blast zone" from the Mount St. Helens eruption of more than 30 years ago. Conservation groups say its wild character has finally been recovered and should not be threatened by mining.

Chris Thomas, Public News Service - OR