Arkansas Works to End Hunger at School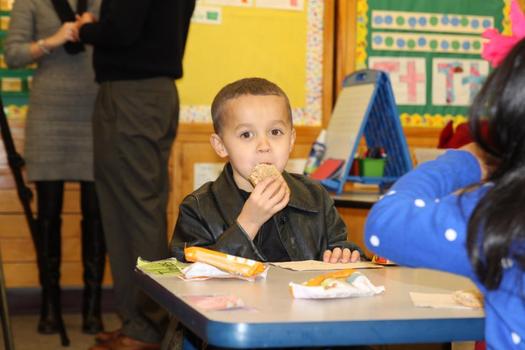 PHOTO: Allowing children to eat breakfast in the classroom is one way to boost participation in school meal programs, and also to ensure that kids don't start the day hungry. Courtesy of Food Research & Action Center.
January 16, 2013
LITTLE ROCK, Ark. - More than half the children in Arkansas who are eligible for the federal free school lunch program also get breakfast at school. That is major progress, according to a new report from the Food Research and Action Center.

Last year, Arkansas raised the number of students starting their days with breakfast at school by more than 4 percent. Serving breakfast is up to each district or even individual schools, depending on the need and their budgets.

Crystal FitzSimons, director of school programs for FRAC, says it makes a difference for students all day long.

"School breakfast has a really positive impact on student achievement, on reducing absenteeism and tardiness. There's a lot of positive educational outcomes, in addition to combating food insecurity and making sure that kids have healthy food."

If the number were raised from 55 students out of 100 in Arkansas to 70 students out of 100, the report says it would mean another 37,000 kids would get breakfast at school, and the state would receive more than $9 million in additional federal funds for the program.

FitzSimons says Little Rock schools are an example of a district going all out to feed more students by letting them eat breakfast during class time. That way, she says, no one is singled out and kids don't have to get to school earlier to eat in the cafeteria.

"We call that breakfast in the classroom or 'grab-and-go' breakfast. The kids are able to eat with their classmates; they eat while the teacher is taking attendance or doing the first morning lesson. They're able to start the school day ready to learn, because they've had a healthy breakfast."

Little Rock is one of 10 districts in the nation that has grown its school breakfast program by 20 percent or more in the past year. The report says more than 250,000 children in Arkansas get free or reduced-price breakfasts at school.

The report is online at frac.org.