Helping Girls Before They End Up in MN Sex Trade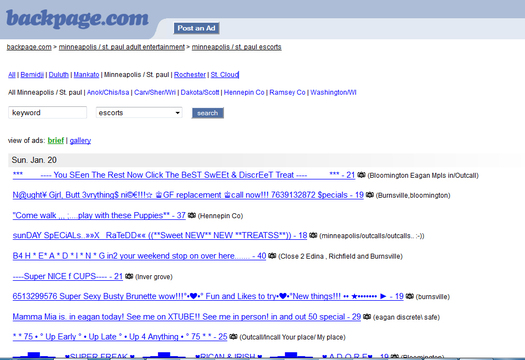 IMAGE: The average age that a child is forced into the sex trade in the U.S. is 13 and more and more often, the transactions are taking place over the Internet. CREDIT: John Michaelson
January 21, 2013
ST. PAUL, Minn. - When it comes to the thousands of girls across Minnesota who are at risk of ending up in the sex trade, early intervention can change their course in life. University of Minnesota researcher Lauren Martin is author of a report on how reaching these vulnerable girls before it's too late can benefit both the girls and the state.

"So if we do that early prevention and do work with those girls to make sure they don't become victims of sex trafficking, we project in the study that we will save $34 for every $1 that's invested in that prevention program. So there's a human cost, but there's also a pretty clear and substantial financial cost to the state."

Advocates this year are seeking $13 million in state funding to help develop a service model for sex-trafficked youth so they are identified, housed and receive services that are victim-centered.

The request for funding comes at a time of tight finances, but Martin says the return on investment comes quickly when it comes to preventing sex trading and trafficking.

"One thing that we did in our study was we looked at 'Where are the greatest savings, in what year?' And the greatest savings are in years one and two after the prevention project, so the impact on the budget happens pretty quickly."

The study was done on behalf of the Minnesota Indian Women's Resource Center. Executive director Suzanne Koepplinger says Indian women are disproportionately affected by things like poverty, homelessness and sexual violence, so they are more vulnerable to trafficking.

"So, we have to be paying attention to the various ways that American Indians are being victimized, and we think that sexual violence against our women and children makes them more vulnerable to traffickers, and in fact we're very concerned about this in our communities."

Koepplinger also says it's time to bury the notion that remains among some that prostitution is a choice or a victimless crime. She says the average age a child enters the sex trade is 13 and dropping.

"Thirteen is the average age. We know that there are younger girls and sometimes boys, who are being sold into prostitution. If that child is traumatized and raped - brutally raped - every night, night after night for five years, when she turns 18, she has not just made a decision about her career."

Koepplinger says there also needs to be more done on the demand side, since if there weren't men out there buying these girls, then there wouldn't be a supply.

The FBI has identified Minnesota as one of about a dozen states with notable sex trafficking activity, particularly of juveniles.

More information is at bit.ly/11JfmLDz.