"Know it. Name it. Stop it." Stalking Awareness Month in PA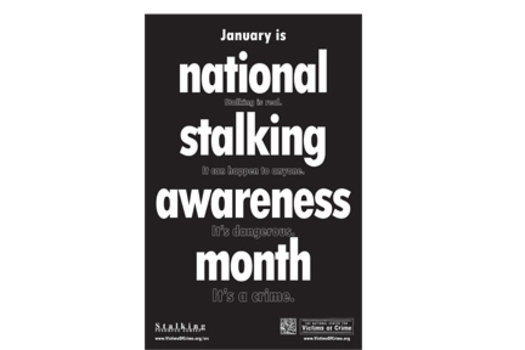 GRAPHIC: Domestic violence prevention groups across the country are spreading the word about National Stalking Awareness Month.
January 21, 2013
HARRISBURG, Pa. - January is Stalking Awareness Month in Pennsylvania, and a national campaign is underway to "Know it. Name it. Stop it." State law lists stalking as a crime, but anti-violence advocate Caroline Fleming says it isn't an easy one to identify or prosecute because it's a series of events that instill fear. They might be repeated phone calls or texts, vandalism, animal abuse, unwanted gifts, or "surprise" visits.

She says education is important, because stalking is a significant risk factor for serious injury or death.

"There's just way too much of it going on, and a lot of times with domestic violence victims, their batterers stalk them after they get away."

Fleming, who is executive director of the Custer Network Against Domestic Abuse and Sexual Assault, says the crime has become more complicated because of technological advances in computers, spyware, GPS devices, and hidden cameras.

"It's becoming so much easier to follow people's movements through lots of different technologies, and you know, they don't even maybe know that they're being watched."

The Stalking Resource Center reports that one in six women, and one in 19 men, have been stalking victims at some point in their lives, and that stalking is linked to missed work time, anxiety and depression in victims.

In Pennsylvania, there are two components that constitute stalking as a crime. The stalker must complete at least two acts of unwanted behavior, and the victim must experience reasonable fear of serious bodily injury. A first offense generally carries a penalty of a year in jail. More than one could land an offender behind bars in Pennsylvania for up to seven years.

Statistics are at StalkingAwarenessMonth.org.

More information is at crime.about.com.


Tom Joseph, Public News Service - PA