New Englanders Rally to Oppose Tar Sands Pipeline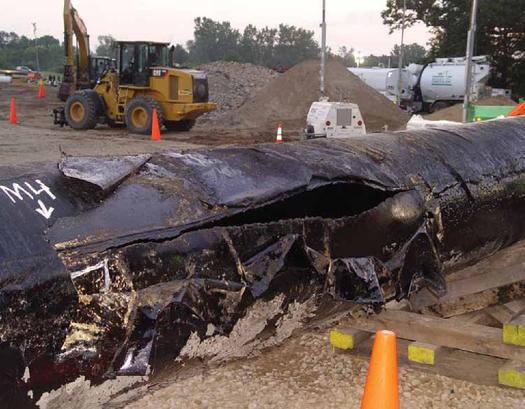 A tar sands pipeline that burst in 2010 contaminated Michigan's Kalamazoon River. Protests are being held around New England against using a 62-year-old pipeline to move Canadian tar sands to Portland for export. Photo courtesy NWF
January 28, 2013
BOSTON - Defying the cold weather, demonstrations, pickets at Massachusetts gas stations, and a march and rally in Portland, Maine, Saturday capped off a week of actions from Canada to Massachusetts aimed at heading off plans to pump corrosive Canadian tar sands oil across New England and into ships for export.

The series of protests over what some see as a threat to water and wildlife in the region culminated at Portland's Maine State Pier on Saturday. Marchers were bused in from the Bay State.

Burlington, Vermont-based activist Dave Stember says the weather was no deterrent.

"The beginning of the rally was 12 degrees. It was amazing," he said. "The police said we had 1500 people; it's hard to know what the numbers were, but we had way more than we expected."

The pipeline runs through Vermont, New Hampshire and Maine, and it crosses the Connecticut River, where a spill could affect downstream communities in Massachusetts and Connecticut. The Canadian company, Enbridge, says it has no plans to reverse the flow of an existing pipeline that carries oil from Portland to Montreal.

Carol Oldham of the National Wildlife Federation says protests were held in several New England states . . .

"Including one on Saturday in Copley Square in Boston," she said. "But also there were several buses that went up to Portland from Boston and Cambridge and from out west, so people from Massachusetts really get it and really care about this."

Dave Stember asks why New England should help Canada export tar sands oil from its Western provinces.

"The conduit goes through our region. We take all of the risks; we get none of the value," he declared, adding, "And the only real argument you could make for it is that it'd be good for the profits for the oil company."

Demonstrators called on elected officials and the U.S. State Department to require a new Presidential Permit application and full environmental review.