Wanted in Maine: Computer Geeks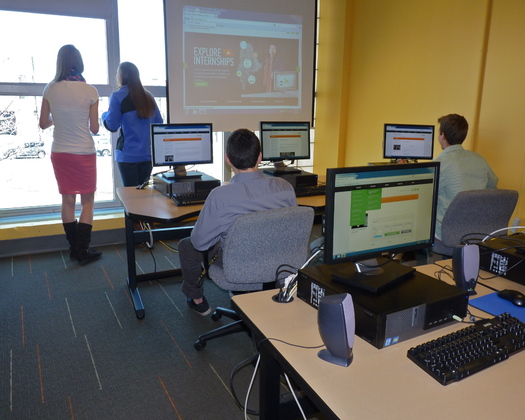 Job creation was an emphasis of President Obama's State of the Union address. In Maine, students are being urged in a new program to pursue available - and proliferating - jobs in computers and technology. Photo courtesy Project>Login
February 13, 2013
BANGOR, Maine - President Obama emphasized job creation in his State of the Union address Tuesday night. When reports abound of college graduates living back at home, looking for jobs and saddled with student loan debt, it's hard to believe there are jobs waiting to be filled in Maine by trained computer and technology professionals.

And there will be more.

If current graduation rates continue, according to Project Login, a new initiative to double the number of qualified tech grads in four years, only 39 percent of new jobs in Maine by 2018 could be filled by people with computing degrees.

Lance Berberian, chief information officer of Idexx Laboratories, said his company is looking to hire skilled techies and is a backer of the campaign he agrees is practically shouting, "Calling all geeks!"

"Absolutely," he said, "and in a world of Apple and smartphones and tablets and all of the great innovations, it is cool to be a geek now."

The backbone of Project Login is a push for internships. A clearinghouse for posting them and getting information to high school and college students will be online in the next month.

Jim Page, chancellor of the University of Maine system, said he was surprised to learn that today's college students are either dropping out of computer and technology majors or not pursing that career path at all. He said they're in danger of missing out.

"These are really good-paying jobs and careers in these companies," he said. "For Maine, they are high-compensation, benefits, professional advancement, the whole thing."

Berberian said he wishes he could talk directly to Maine's college students and tell them how much fun they could have working for a company such as his.

"So, these are jobs that can be found easily, they pay a lot and they're really fun," he said, "and yet we're seeing very few students graduate with these degrees and have this interest."

It's a project of the business-led organization Educate Maine. Page said it's hard to believe a college student wouldn't find it attractive.

"The freshman class this year at our universities have never not known the Internet," Page said. "It's just part of who they are."

Adult learners will be targeted, along with middle school, high school and college students. And they'll be spreading the word using social media such as Twitter and Facebook, naturally.




Mark Scheerer, Public News Service - ME