Report: School Breakfast Connected to Good Test Scores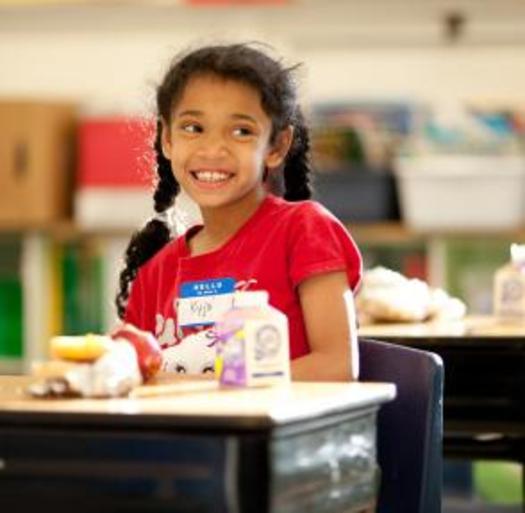 PHOTO: Research is being presented today that shows how potential academic gains can be connected to school breakfast programs that serve low-income students in Maryland. Photo courtesy of No Child Hungry Maryland
February 27, 2013
ANNAPOLIS, Md. - Mom has said it forever: Breakfast is the most important meal of the day. New research being presented today in Annapolis shows just how right mom was.

The study, a collaboration between Share Our Strength and Deloitte, shows that when school breakfast is served to low-income students, school absences potentially can be reduced by 47,000 a year. In addition, 32,000 students could possibly score higher on standardized math tests, the study says, and more than 8,000 more could graduate from high school each year.

Molly McCloskey, Maryland No Kid Hungry director, said the graduation note is most impressive.

"That's direct economic benefit," she said, "because high school graduates make more than $10,000 a year more than high school dropouts."

Maryland Meals for Achievement, a breakfast program that serves in-classroom breakfast in high-need schools, also has had a positive impact on academic achievement, according to the study. More than half of students who eat a free or reduced-price lunch are connected to a school breakfast program.

The Deloitte study shows the biggest potential benefits happen when 70 percent of those students are served school breakfast.

Eastport Elementary School principal Lynne Evans said school breakfast has been offered there for 10 years. It's offered to all students so there's no stigma, she said, recommending it for every school.

"Very few behavior issues when kids come in in the morning because they know they're going to be fed," she said. "They're more willing to get started on their day, which turns into more time on task."

Gov. Martin O'Malley has been a vocal supporter of Maryland Meals for Achievement, recommending more funding for the program to connect more schools to breakfast options. He'll be at the event today at Eastport Elementary, 420 Fifth St., Annapolis.

The Deloitte study, "Ending Childhood Hunger: A Social Impact Analysis," is available from Ariane Holm at aholm@strength.org.
Deborah Courson Smith/Deb Courson Smith, Public News Service - MD