California's Underwater Parks Get 5 Year Checkup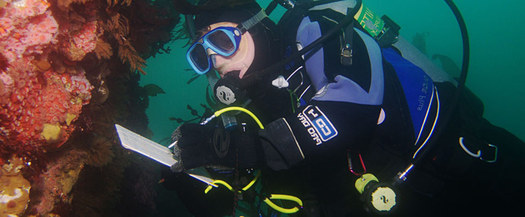 PHOTO: A volunteer survey diver in the Monterey Bay National Marine Sanctuary. Credit: Pete Naylor.
February 27, 2013
Central California's first underwater parks are getting their first five-year checkup.

Hundreds of scientists, policymakers and others are gathering in Monterey today to hear the results of monitoring efforts of the state's first marine protected areas (MPAs). California Secretary for Natural Resources John Laird said it's too soon to expect big changes, but the results will let us know where we should be at this point.

"I think there's the expectation that if you have things off limits, populations of fish just come back," he said, "but there are certain species of fish that are much more fertile and their eggs are of better quality much later in life."

Early monitoring of the region's 29 MPAs suggests that the protected areas are on track, with some fish species increasing in size and numbers in marine reserves compared with waters outside the boundaries. The MPAs were created under the Marine Life Protection Act in 2007 to protect and restore the ocean health and wildlife.

The MPA monitoring program has involved a collective effort of divers and fishermen teaming up with scientists to create a baseline of ecological health for the region's coastal waters against which future MPA performance can be measured. Laird said the state has been working closely with MPA monitoring programs.

"It's very important to have science because that really gives you an objective, fact-based basis for the success of the reserves," he said. "Also, if there are different things we should be doing, what is the scientific adjustment we should make over time?"

The 29 MPAs on the Central Coast were the first of five regions to be established. The entire statewide network of 124 underwater parks was completed in December.

More information is online at stateofthecoast.org.

Lori Abbott, Public News Service - CA