A Newborn's Health Could Rest on One Simple Test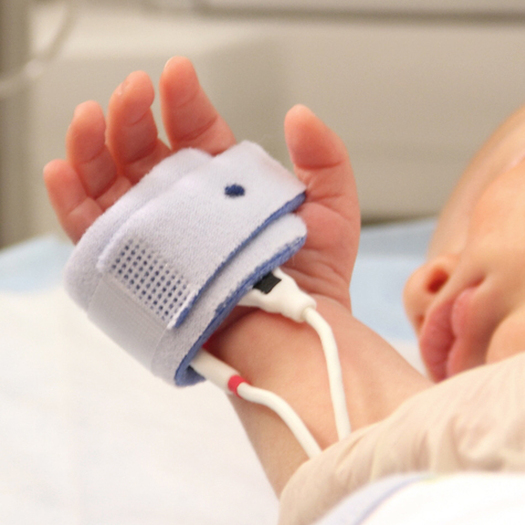 PHOTO: Pulse oximetry is a simple, inexpensive test of a newborn's heart function – but it isn't always performed on infants in Arkansas. Courtesy of babyheartscreening.com
March 11, 2013
LITTLE ROCK, Ark. - A medical test for the state's tiniest residents is a big topic this week for an Arkansas House committee. A pulse oximeter is a simple screening device attached to a baby's hand or foot that can detect heart function problems in the first days of life. Legislation would make it a mandatory test before sending an infant home.

The American Heart Association (AHA) says its research supports the idea. Dr. Robert Morrow, a pediatric heart surgeon at Arkansas Children's Hospital, estimates that about 50 children a year around the state are born with serious heart problems. He said the sooner they are detected, the better.

"The problem with congenital heart disease in babies is, many babies with serious heart defects don't manifest any symptoms until after they've gone home, and there are some physiologic reasons for that," said Morrow. "But you can still detect the defect using pulse oximetry."

According to Morrow, some hospitals and birthing centers don't perform the test, although it is easy to administer and costs between one and ten dollars per test. He explained that hospitals don't object to the test itself, but some are wary of any new mandates when they already have so many. In his view, this one is different, because it detects potentially life-threatening problems.

"It would seem to me that, just from a standpoint of risk, you'd want to do it," he said. "You wouldn't want a baby going home from the hospital with critical congenital heart disease, with all those recommendations out there, from [the] Heart Association and the March of Dimes, that it be done."

Pulse oximetry has also been recommended by federal health authorities since 2011, and by the American Academy of Pediatrics. The AHA says congenital heart defects are the number one killer of infants with birth defects.

House Bill 1468 directs the State Board of Health to create and adopt rules to make Pulse Oximetry a requirement for newborns. It's in the House Public Health, Welfare and Labor Committee.