Teacher Layoff Notices Sent Despite Prop 30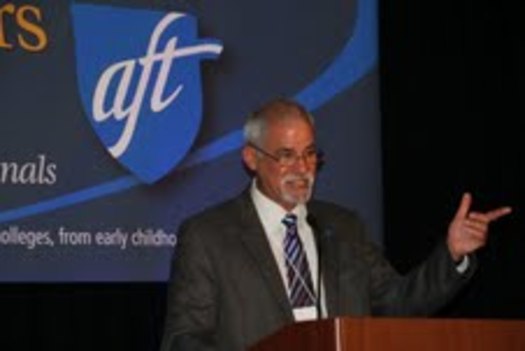 PHOTO: CFT president Joshua Pechthalt greets the delegates to open the 71st annual California Federation of Teachers convention on Friday, March 15.
March 18, 2013
SACRAMENTO, Calif. - Teachers across the state are receiving layoff notices despite the passage last fall of Proposition 30, which raised taxes to help fund education.

Third-grade teacher Megan Kashing said her layoff notice came as a surprise, especially since her school district's budget has a 30 percent reserve. She declared that even if district administrators are just being cautious, they shouldn't act as if the sky is falling.

"They can say, you know, eventually they think they may rescind your pink slip, but in the meantime that creates a totally different atmosphere at the school site, because people are going through that emotional strain," she charged.

Kashing said it's also stressful for educators who didn't receive pink slips, because they have to worry about taking up the slack if the layoffs do happen.

Over the weekend, 500 educators gathered in Sacramento for the California Federation of Teachers annual convention. CFT leaders are calling on school district administrators to follow the voters' mandate to use Prop. 30 funds as they were intended, and not to overfill district reserves.

CFT president Josh Pechthalt declared that while they celebrate the passage of Prop. 30, school districts must follow the will of the voters.

"That money was to restore positions, to make sure schools have art and music, that class sizes are not increased, to hire back librarians, and counselors and nurses," he stated. "For school districts at this point to be banking that money in their reserves is not appropriate."

Pechthalt said Prop. 30 stopped the bleeding, but is just the beginning of improving public education. California still ranks near the bottom of the nation in per-pupil spending and in average class size.

More information is at CFT.org.