It's "Kick Butts Day" for Oregon Teens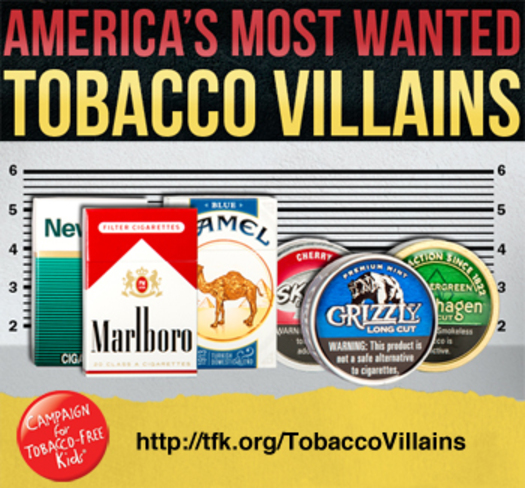 PHOTO: The most popular (and most widely advertised) tobacco brands are known as "America's Most Wanted" by the Campaign for Tobacco-Free Kids. Courtesy of Campaign for Tobacco-Free Kids.
March 20, 2013
REEDSPORT, Ore. - Today marks "Kick Butts Day," an annual effort to get teens and young adults to quit using tobacco.

Despite smoke-free laws and age limits on tobacco purchases, almost 15 percent of Oregon high school students say they smoke or chew. That's nearly 30,000 youths, with plenty of new choices on the market to entice others to start.

Danny McGoldrick, the Campaign for Tobacco-Free Kids' vice president for research, said some companies have added tobacco to their cigarette paper or wrapper, which qualifies it as a cigar - skirting federal regulations and aiming at the younger crowd.

"We have this plethora of new, flavored, sweet, cheap cigar products that are really cigarettes disguised as cigars - peach, vanilla, or strawberry-flavored little cigars that are 99 cents or less for two of 'em - and are clearly meant to appeal to kids," McGoldrick said.

Today's youths are twice as likely to be cigar smokers as adults, McGoldrick said. The campaign has just released a report about new tobacco products it considers a health threat to younger users, he said, including some creative choices for places where people can't light up.

"There are new smokeless tobacco products that are easy for kids to conceal because you don't have to spit with them," he said. "Some are even dissolvable - look like TicTacs or candy - and all these can serve to introduce kids to the habit."

In Reedsport, Dr. Janet Patin is one of many Oregon physicians trying to counteract million-dollar marketing campaigns. She uses a program called "Tar Wars" with local fifth-graders. They talk about tobacco's health effects and analyze the messages in tobacco ads.

In her family medical practice, Patin said, advising smokers to quit is a big part of the job.

"I talk about it every day," said Patin, a board member of the Columbia Pacific Coordinated Care Organization. "It's a terrible addiction, and that's why it's best not to start - because it is hard to stop."

The Campaign for Tobacco-Free Kids estimates the tobacco industry spends almost $100 million a year in Oregon to market its products. The brands that advertise the most are the top choices for teens - Camel, Marlboro and Newport for cigarettes, and Copenhagen, Grizzly and Skoal for smokeless.

More information is online at tobaccofreekids.org.