Corralling the Internet: NY Advocates Fight Back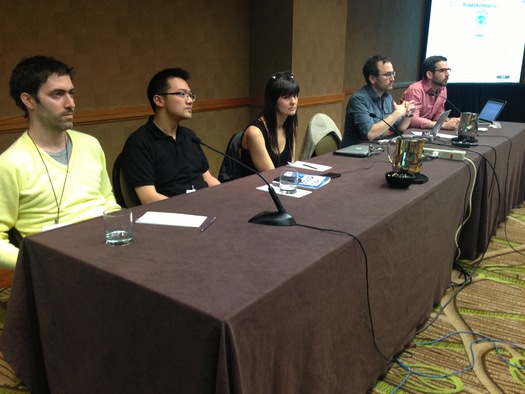 PHOTO: Panelists discussing threats to Internet freedom at the National Conference for Media Reform included Brooklyn's Elizabeth Stark (center), who warned of the latest government and corporate threats to Internet Freedom. Courtesy Mark Scheerer.
April 8, 2013
NEW YORK - The National Conference for Media Reform brought together thousands of policymakers, advocates and tech experts who spent three days discussing such issues as protecting the Internet from government and corporate attempts at limiting its free and unfettered usage. Congressional bills to regulate the Internet, known as SOPA and PIPA, were roundly rejected last year when grassroots activists organized petitions, protests and a one-day service blackout on the Web.

Brooklyn-based activist Elizabeth Stark said the next threats to the Internet are on the doorstep, but she hoped it would not come to similar uprisings.

"We can't have an Internet blackout every few months because that just won't work," she said. "We need to instead keep the pressure on, get people excited and engaged in an ongoing fashion."

Advocates warned about a cyber-security bill in Congress called CISPA that they said is deeply flawed, a move by AT&T to dissolve regulations regarding affordable and open networks, and international trade agreements that would affect Internet freedom.

Stark, an open-Internet advocate and former academic, said blackouts cannot be mounted every time there is a threat. She called it a marathon, not a sprint.

"SOPA was a sprint-like moment where we had a very short amount of time, we had a huge goal and we had to address it, and we prevailed and succeeded," she said. "But this is going to be decades-long in our goal to keep the Internet free."

Craig Aaron, whose group, Free Press, hosted the conference, said the uprising against SOPA and PIPA has had a lasting effect.

"The good news is that if you're on Capitol Hill right now, you'll still hear members of Congress talking about not getting 'SOPA-ed.' What we really have to watch out for is these big companies. If they don't get their way in Washington, they'll go try to do it at the local level. If they don't get their way at the local level, they'll go try to do it internationally: sneak things into trade agreements," he predicted.

Some 35 advocates and experts from the Empire State attended the three-day conference in Denver.



This story was produced as part of the Media Consortium's Media Policy Reporting and Education Project, thanks to a generous grant from the Media Democracy Fund.


Mark Scheerer, Public News Service - NY