Maryland's Backyard Birds at Risk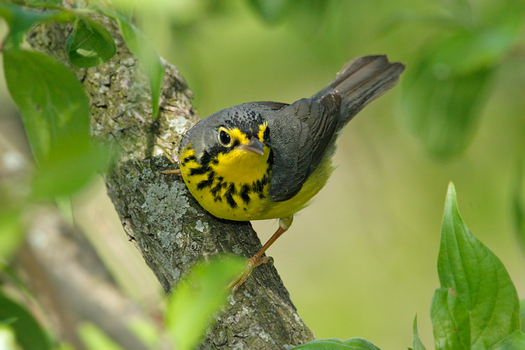 Birds that migrate through Maryland like the Canada Warbler are on the decline. Photo credit: Boreal Songbird Initiative
May 10, 2013
ANNAPOLIS, Md. – From their beautiful songs to their stunning colors, birds are putting on their best displays this time of year in Maryland.

It's the spring migration season, and more than half the birds you see at your feeders and soaring across the sky right now are headed north to Canada's Boreal Forest, the largest intact forest on earth, and the nesting grounds for America's birds.

Dr. Jeff Wells, senior scientist with the Boreal Songbird Initiative, says many of the birds are at risk as the forest faces new threats.

"It is an area that is under threat from mining, forestry, oil and gas, hydro," he says. "Lots of different factors. And it is being impacted by climate change."

About 3 billion of North America's land birds and 26 million waterfowl breed in the Boreal Forest.

Wells says certain species that we enjoy watching have already seen significant declines.

"Birds like Canada warbler, olive-sided flycatcher and bay-breasted warbler," he says. "Some of those birds are birds that people are seeing less of in migration in places like Maryland."

Dr. Frederic Reid, director of Boreal and Arctic Conservation for Ducks Unlimited, says the birds' habitat will keep shrinking unless the forest is protected.

"Unlike other parts of the globe that are so devastated, we have a chance to make some decisions about the Boreal Forest now," he says.

You can track your favorite birds' migration journey on the Boreal Songbird Initiative website: www.borealbirds.org.