Are Arkansas' Backyard Birds at Risk?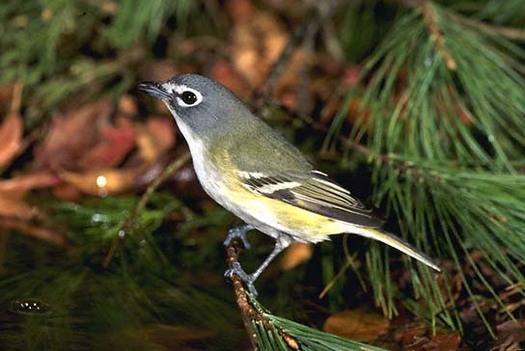 PHOTO: The Blue-Headed Vireo is one of the birds "commuting" through Arkansas this month. An estimated 55 percent of this species breeds in Canada's Boreal Forest. Courtesy of Boreal Songbird Initiative.
May 13, 2013
LITTLE ROCK, Ark. - From their beautiful songs to their stunning colors, birds are putting on their best displays this time of year in Arkansas. It's the spring migration season, and more than half the birds you see at backyard feeders and soaring across the sky right now are headed north to Canada's Boreal Forest. It's the largest intact forest on earth and, according to Dan Scheiman, conservation director for Audubon Arkansas, it's the nesting ground for birds in the United States.

"Well, what happens in Canada, where many birds breed, affects how many young are born each year and how many birds make it to next year," he said. "And that affects the numbers of birds that we see here in Arkansas."

About 3 billion of North America's land birds and 26 million waterfowl breed in the Boreal Forest.

Dr. Jeff Wells, senior scientist with the Boreal Songbird Initiative, warned that many of the birds are at risk as the forest faces new threats, and that some species have already seen significant declines.

"It is an area that is under threat from mining, forestry, oil and gas, hydro, lots of different factors," he said. "And it is being impacted by climate change."

Locally, the birds also face challenges as they make their way north to the forest breeding grounds. For instance, the white lights on tall buildings and towers that are meant to warn pilots actually attract and confuse songbirds and can cause them to collide with the structure, or circle a light until they wear themselves out.

However, Dan Scheiman said that in terms of numbers and variety, this is still the most exciting time of year for bird-watchers in Arkansas.

"All sorts of songbirds are moving through the state right now," he said. "That includes a wide variety of songbirds, like warblers, vireos and thrushes. Bigger birds are moving through right now: hawks and waterfowl and shorebirds."

He adds that Bell Slough Wildlife Management Area and the White River National Wildlife Refuge are among the best places to see the birds on the move this month.

Track your favorite birds' migration journey on the Boreal Songbird Initiative website.


Chris Thomas, Public News Service - AR