New Agreement Means Stinky Start to St. Louis Summer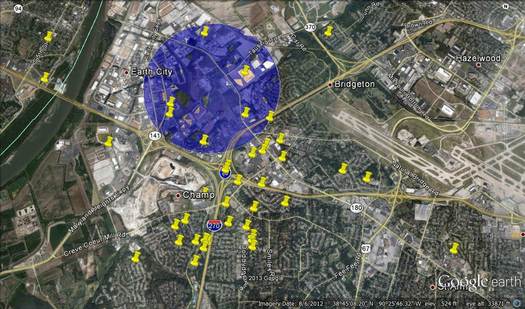 Pinned locations show resident odor complaints outside the one mile radius MCE says it is not meant to be a scientific analysis. Courtesy of: MCE
May 15, 2013
ST. LOUIS - The Missouri Attorney General's Office has reached an agreement with the company that runs the Bridgeton landfill on how to control the stench from its underground fire.

The agreement calls for Republic Services to cap the landfill, but first company officials say they'll need to remove some concrete pipes. That work will worsen the noxious odors for about a month, and the company has agreed to pay residents within a one-mile radius $125 a week to stay somewhere else, beginning Monday.

Ed Smith, safe energy director for the Missouri Coalition for the Environment, said his group conducted surveys and found that people who live as far as three miles away have complained of the odors that make their eyes water and cause other symptoms.

What is the advice from state health officials?

"What they're telling people who are in the 'stink radius' is that if you smell it and you have health problems, or you're in a vulnerable population, to stay inside and limit your exposure," Smith said. "And if you have problems, go to the doctor."

While Smith said this is a decent first step, the coalition would like some public meetings to keep residents informed of the health risks. The state Department of Natural Resources has been posting updates to its website, but Smith says they come too slowly.

Smith speculated that the company saved money by limiting the relocation zone to one mile instead of three.

"There's not a whole lot of communities that live within a one-mile radius of that landfill, maybe a couple of hundred homes," Smith said. "You go out three miles, you're talking several thousand."

Republic Services said it spent about $20 million on this project last year, not because it had to but because the company wants to do the right thing.

It will be harder for some people than others. At the Carrolton condo complex, some residents will be reimbursed for the month while others who live across the street won't because they are just outside of the one-mile boundary.

DNR has posted updates on its website and sent emails to residents. Smith said that's a step forward, but thinks the department takes too long to post new information.

"The information that's being sent out needs to be updated in real time, or as close to that as possible," Smith said, "so that people can make informed decisions on how to protect their families."

Public meetings could make it easier for people to understand what's going on at the landfill, Smith said. Some are worried about the underground fire spreading to the nearby West Lake landfill, a federal Superfund area that contains radioactive material. Environmental Protection Agency officials say they have emergency plans - just in case.

More information is online at dnr.mo.gov, facebook.com and moenviron.org.