Think it Might Be a Stroke? FAST is best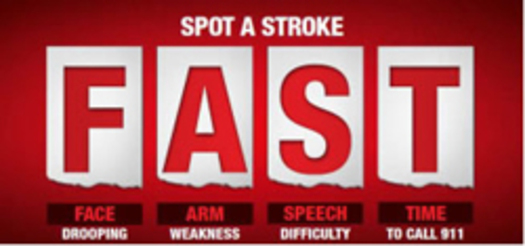 IMAGE: Time is vital when it comes to treating stroke, as brain damage mounts with each passing minutes and there is just a small window of time where clot busting drugs can be administered. CREDIT: AHA
May 24, 2013
ST. LOUIS – May is National Stroke Awareness Month, and one of the key points in the event of a stroke is fast action.

Cardiologist Dr. Ziad Darkhabani says certain clot-busting drugs can only be given within a short time frame, so people need to call 911 immediately upon onset of symptoms, which can be memorized with the acronym FAST.

"Facial, Arm, Speech and Time," he explains. "So facial, any facial weakness basically that's going to indicate possible stroke. Arm weakness or drift. Speech problem. And they added the 'T' just to show how important time is."

Stroke is the fourth leading cause of death in Missouri, claiming more than 3,000 lives a year.

Time is also vital, Darkhabani says, because with a stroke, brain damage begins to mount right away.

"Every minute passed, thousands of cells will die," he says. "Thousands of connections between the cells also will die, and that's why time is extremely important for the treatment of stroke."

Risk factors for stroke include high blood pressure, high cholesterol and smoking.



Mary Anne Meyers, Public News Service - MO