Humane Alternatives for New Mexico Horses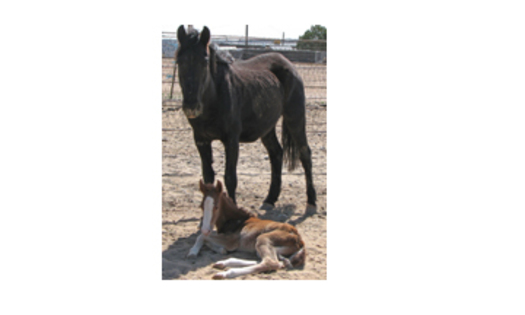 Homeless horses get a new chance at life thanks to animal advocates. Ashanti and her just-born new colt at San Juan Sheriff's Posse Grounds in Farmington, NM on March 6, 2013.
PHOTO Courtesy of Debbie Coburn.

June 10, 2013
AZTEC, N.M. - Horse advocates' answer to slaughter is a safety net for unwanted horses. Creating it calls for coordinating population control, law enforcement and cooperation between agencies and stakeholders.

It is a major task being taken on by animal advocates such as Debbie Coburn, CEO, Four Corners Equine Rescue, and chair, New Mexico Equine Rescue Alliance. She said the answer is not a slaughterhouse.

"Slaughter only begets more slaughter," Coburn stressed. "If you allow horses to be slaughtered, then people have no incentive to stop creating them, because they know they can always just send them to slaughter."

Coburn said she envisions a solution that incorporates reproduction management and law enforcement.

"If people are held accountable for what they are doing or have done, they're much more inclined to do something proactively instead of waiting until the horse is absolutely a bag of bones and then taking it to the sale barn or dumping it," she said.

Another issue Coburn sees as fundamental to creating a safety net is cooperation. The New Mexico Equine Rescue Alliance is part of the Stakeholders Meeting, a task force designated by the governor to create resolutions to the issue of how to deal with unwanted horses. The task force is comprised of horse rescue groups, the cattle growers association, the livestock board, breeding associations and tribal entities.

Among other hurdles, it faces cultural barriers, Coburn noted.

"On the Navajo Nation, for example, the number of horses that a person owns is a reflection of his wealth. The Navajo Nation is making an effort to get a handle on their horse population, but they run into budget constraints and a lot of resistance from their own people," she said.

Phil Carter, equine campaign manager, Animal Protection of New Mexico, is working to provide humane options for horses through the Equine Protection Fund programs. They offer feed assistance, veterinary care and population control assistance, such as support for gelding clinics.

Creating the safety net is not just up to the people on the governor's task force, Carter said. Anyone can assist by "providing hay or financial support, being on call whenever we hear cases of a horse needing temporary placement, or offering other kinds of help," he explained.

Carter suggested several online resources for information or to get involved: www.helpourhorses.org, www.loveanimals.org and fourcornersequinerescue.org. The New Mexico Equine Rescue Alliance is at http://bit.ly/16NIo0B.