MD Sex Trafficking Survivor Testifies in Congress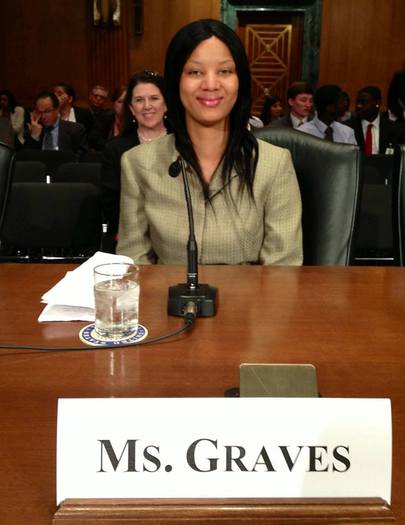 PHOTO: Sex trafficking survivor Asia Graves shared her story with a congressional committee investigating the exploitation of children in foster care. Courtesy of FAIR Girls.
June 12, 2013
BALTIMORE - Maryland sex trafficking survivor Asia Graves shared her story with a congressional committee Tuesday, explaining how she was easy prey as a homeless teen. Now, she's calling on Congress to do more to stop the trafficking of kids who are homeless or in the foster-care system.

According to the National Center for Prosecution of Child Abuse, at least 100,000 children are exploited every year in the United States. From 50 percent to 80 percent of them are connected to the foster-care system. Graves said most are sexually abused, and society has a responsibility to help them.

"Right here in our nation's capital, right here in Baltimore, right all over Maryland, there is a girl or a boy in a hotel room right now being forced to have sex against their will," she said.

Graves now works with other teens in Maryland through the advocacy group FAIR Girls, where she's Maryland outreach services coordinator. She told lawmakers there is a critical need for specialized foster care to help trafficking victims, and more training for social workers and teachers to identify possible victims.

The problem is so pervasive, she said, that every time she visits a school to talk about it with other kids, she finds someone who can relate to her experience.

"It's horrifying to go into a middle school and have girls say that they've been approached by pimps or by johns, men who buy sex," she said.

The ranking member of the Senate Finance Committee, Sen. Orrin Hatch, R-Utah, said at the hearing that he believes "the qualitative and systemic flaws in our current foster-care system are among the factors that make girls in the foster-care system so vulnerable to traffickers."
Alison Burns, Public News Service - MD