Reading Your Way to Red Sox Seats: Hottest Ticket in Town?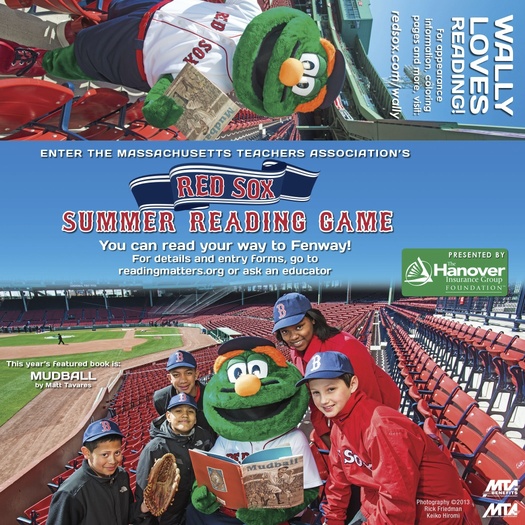 PHOTO: Friday is the deadline for entering the the Massachusetts Teachers Association Red Sox Reading Game, which is open to all kindergarten through eighth grade students in the state. Students who pledge to read nine books can enter into a drawing to win free tickets to a game at Fenway Park. Photo courtesy Rick Friedman and Keiko Hiromi.
July 10, 2013
BOSTON - Commonwealth school kids from kindergarten through eighth grade have until Friday to enter the Massachusetts Teachers Association Red Sox Reading Game, which makes kids eligible for free baseball game tickets while they sharpen their reading skills over the summer. Charles Steinberg, in the ball club's front office, said with the team doing unexpectedly well in the first half of the season, demand for seats is up - and the game on Sept. 21, which lucky Reading Game participants might get to attend after a drawing, could be a key contest.

"You see, wow, we're going to play the Toronto Blue Jays on the second-to-last home game of the year. That could be to determine post-season play. Let's hope we're still in the thick of it then, as we are now," Steinberg said.

This year's Reading Game spokesperson - in addition to Wally the Green Monster, the team's mascot -- is backup catcher David Ross, who has been sidelined with concussions. Steinberg said he'll be back soon, if only to provide a dugout presence - and promote summer reading. Kids can sign up at www.ReadingMatters.org or on the Red Sox web site.

Tim Sullivan, vice president of the Massachusetts Teachers Association, pointed out that children's learning skills can slip and slide in the summer.

"We always have this phenomenon we might refer to as the 'summer slide,'" Sullivan explained, "affecting certain skills the kids have learned. So this is really our part in trying to make sure the kids continue to read, so they stay on top of their reading skills."

Steinberg, Executive Vice President and Senior Advisor to the President of the club, says Red Sox players like Ross volunteer their time to good causes to give back to the community, he added.

"David Ross is the latest example of a very active player who sees that literacy is the key that unlocks the doors to knowledge and enlightenment, and it's essential," Sullivan said.

Ross will be returning from his home in Florida soon to rejoin the team, he went on.

"He knows the game, he helps the pitchers, he helps the catchers, he's used to post-season experience. So just his mere return, whether the concussion symptoms have completely abated or not, is going to help our ball club."

Kids become eligible for the ticket drawing by reading nine books over the summer. They can include books already assigned by their schools.

They can sign up at ReadingMatters.org or on the Red Sox' web site.