Farm Workers in DC Demanding Protections from Pesticides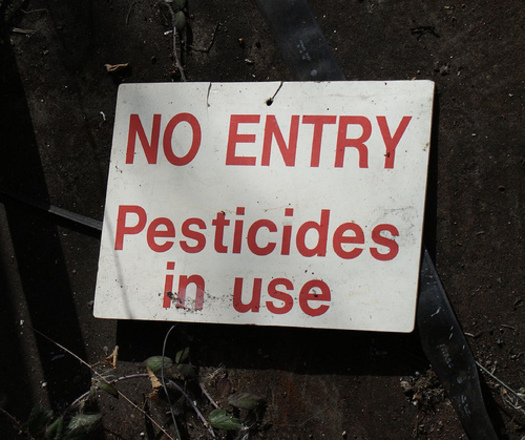 PHOTO: More than five-billion pounds of pesticides are applied to land across the U-S each year and today (Monday) and tomorrow, farmworkers from across the country are in Washington D.C. demanding greater protections. CREDIT: Andy Powell
July 15, 2013
NASHVILLE, Tenn. - Farm workers from across the nation are meeting with members of Congress today and Tuesday, asking for stronger protections from hazardous pesticides.

Farm workers face the greatest threat from these chemicals, and Ernesto Velez, executive director of Centro Campesino, said 10,000 to 20,000 cases of acute pesticide poisoning occur each year in the United States.

"There are definitely a lot of cases from different places where people have been directly affected," he said. "Either illnesses or reactions or, in some of the worst cases, there have been genetic changes, changes in fetuses and babies. So, it's something that is definitely very important and very critical that we can improve."

Short-term effects of pesticide exposures can include blisters, nausea, headaches and respiratory problems, while cumulative long-term exposures can increase the risk of serious chronic health problems such as cancer and neurological impairments.

In addition to the safety of the farm workers and their families, Velez said, all Americans have a stake in greater protections from pesticides since these workers are the backbone of the U.S. agricultural economy.

"Those workers are providing basically the food for the entire country," he said, "They are the ones who are putting their backs to the sun and getting into the field so that all of us can have fresh groceries, whether at the table or whether at the store."

More than 5 billion pounds of pesticides are applied to crops annually in the United States. It's been more than 20 years since the Environmental Protection Agency updated or revised its agricultural worker-safety standards for pesticide use.

More information is online at earthjustice.org/news.


John Michaelson, Public News Service - TN