Rallies Nationwide Today Against Border Militarization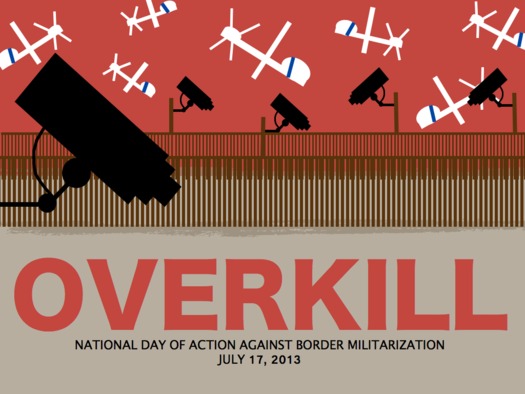 PHOTO: Saying it would lead to one of the most militarized border zones in the world, those opposed to the "border surge" as part of immigration reform will rally in cities across the country today (Wednesday). CREDIT: BNHR
July 17, 2013
ST. PAUL, Minn. - Rallies are planned in some cities across the nation today in a national day of action against the proposed "border surge" as part of immigration reform.

The surge would create one of the most militarized border zones in the world, said Cristina Parker, communications director for the Border Network for Human Rights.

"Border Patrol is already the largest paramilitary force in the United States," she said, "and this calls for about $46 billion in spending on drones, helicopters, surveillance and radar equipment, doubling the wall and most significantly, doubling the Border Patrol."

Parker said lawmakers must remember that 7 million U.S. citizens, residents and families live in border communities, and that immigration trends have changed.

"We are some of the safest cities in the country by far, and that's been true for many years," she said. "In addition, the border crossings are near zero and net migration from Mexico is now at below zero."

The border surge is part of the bill passed by the U.S. Senate, which also includes a rigorous path to citizenship for the 11 million undocumented immigrants currently in the country. The House has yet to take up immigration reform.

More information about today's events is on the Border Network for Human Rights website.
John Michaelson, Public News Service - MN