Green Jobs for Young Marylanders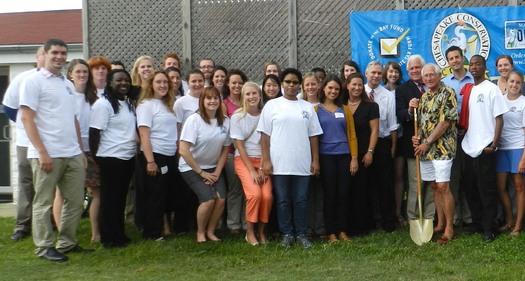 PHOTO: The Chesapeake Bay Trust is announcing the names of 26 newly-selected participants in the state's Conservation Corps. Photo Credit: CBT
August 27, 2013
ANNAPOLIS, Md. - It's not easy landing that first job, but it just got easier for a few dozen young Marylanders interested in improving the environment. Today in Annapolis, the Chesapeake Bay Trust is announcing the names of 26 newly-selected members of its Conservation Corps.

According to Trust executive director Jana Davis, the participants will be helping schools, nonprofits, and businesses launch environmentally-friendly initiatives, while boosting their own career prospects.

"This program brings these kids in, gives them a very professional experience for a year, gives them extremely important job training skills and really sets them up for fantastic careers going forward," she declared.

Davis said the conservation corps is growing, and 40 percent of last year's participants were hired by their host organizations after their volunteer service was finished.

She pointed out that one of this year's Conservation Corps participants will be working with the Baltimore Community Tool Bank to provide tools to build rain gardens in the community.

"The Baltimore Community Tool Bank is, of course, not an environmentally-driven organization, but it's realizing the importance of bringing in this green element," Davis said.

The Maryland General Assembly created the Conservation Corps in 2010 to provide training for young people interested in environmental careers and Chesapeake Bay protections. It's funded by the state and by Constellation Energy, as well as the Chesapeake Bay Trust, with proceeds from the 'Treasure the Chesapeake' license plates.

Link to information about the Chesapeake Conservation Corps at CBTrust.org.


Alison Burns, Public News Service - MD