"Lame" Reason Cattle Growth-Accelerator Pulled from Market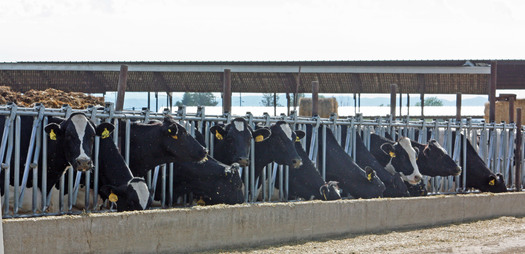 PHOTO: Cattle producers in Wyoming and around the country are rethinking feedlot practices after Merck Animal Health recently pulled a popular growth-accelerating drug from the market. Photo credit: Deborah C. Smith
September 3, 2013
LANDER, Wyo. - Cattle producers in Wyoming and around the country are rethinking feedlot practices after Merck Animal Health recently pulled a popular growth-accelerating drug from the market. Zilmax was credited with helping cattle pack on up to 30 pounds of lean muscle in the weeks before slaughter, but it may also be associated with lame animals.

Dr. Temple Grandin, professor of animal science, Colorado State University, has worked for decades to make life better for livestock raised for food. While the suspension of Zilmax is new, the problems she has noticed are not. She said the situation has kept her up at night.

"It's a problem that really bothers me, because I've worked hard to improve the slaughterhouses. We got the slaughterhouses fixed, and now we're getting some cattle that are stiff and sore."

There's no indication of how long Zilmax will be off the market; another, similar product is still available. Grandin said she doesn't think Zilmax should be banned, but that more research needs to be done on dosage and other conditions - such as heat.

"It makes them very difficult to handle, and those animals are suffering. I've made it very clear that it's a problem that needs to go away."

Zilmax is classified as a beta-agonist, and it is also used to treat asthma in people. Right before the Merck decision, Tyson Foods announced it would no longer accept cattle that had been fed Zilmax.




Deborah Courson Smith/Deb Courson Smith, Public News Service - WY