Newest Predator for NC Freshwater Fish: Climate Change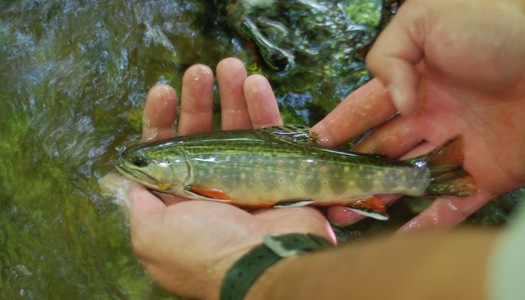 PHOTO: Brook trout are among the freshwater fish species at risk from climate change. Courtesy Trout Unlimited.
September 5, 2013
RALEIGH, N.C. - North Carolina's freshwater fish populations are fighting for survival, according to a new report. Although this summer has been unseasonably wet and cool in most parts of North Carolina, the droughts of years past are catching up with freshwater species - including the brook trout.

Fred Harris, natural resource specialist, North Carolina Wildlife Federation (NCWF), said because most North Carolina streams run west to east - unlike in other regions of the country - fish cannot swim north in search of cooler temperatures.

"The brook trout depend on cooler water temperatures, and if those start warming, then there's nowhere for a lot of those populations to go, and we would likely lose those populations," Harris warned.

The report by the National Wildlife Federation and Trout Unlimited called climate change a key factor in the declining health of many freshwater fish populations. NWF also noted that the more than 1 million freshwater anglers in North Carolina contribute almost $600 million a year to the state's economy.

Climate change affects water temperatures and rainfall and spurs extreme weather events - all of which influence fish populations. Alen Baker, conservation director, North Carolina Council of Trout Unlimited, said fishermen are already seeing an effect on freshwater fisheries.

"I can go up there and fish today, and there's lots of water in these headwater streams, but it's very difficult to catch fish in any kind of comparable numbers to what we used to do," Baker said.

Harris noted that the changing climate is also opening the door to new and unwanted species in U.S. waters, such as Asian carp, that can disrupt the ecosystem by competing with native fish for food.

"The fish that would move in could very well have serious effects on our native fish that were able to adapt to climate change, but couldn't adapt to these new species coming in," Harris explained.

The report said cutting carbon pollution is key to curtailing climate change and improving the health of the country's freshwater fish. The NWF and other environmental groups want the Environmental Protection Agency to finalize stricter limits on carbon from new and existing power plants by 2016.

The report is available at http://www.NWF.org.


Stephanie Carroll Carson, Public News Service - NC