Campaign Spending Limits Case: Blowback for NY?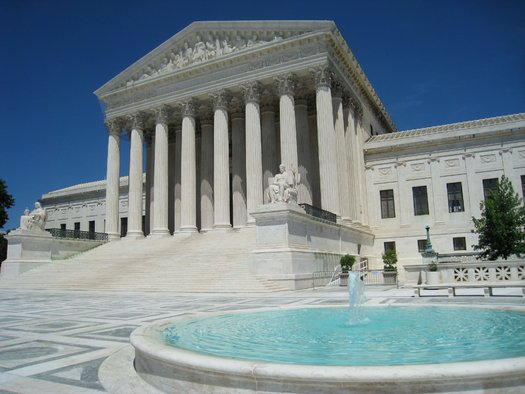 PHOTO: Campaign finance reform advocates in New York are watching a case at the U.S. Supreme Court today that they say could "blow up" the state's existing limits on donations to candidates. Courtesy Wikimedia Commons.
October 8, 2013
ALBANY, N.Y. - A case being argued before the U.S. Supreme Court today could do away with limits on how much money individuals can donate to political candidates. Some say it could spell the end of New York's campaign finance reform efforts. An Alabama businessman, Shaun McCutcheon, and the Republican National Committee want to remove the limit on contributions by a single donor to federal candidates and political action committees during any two-year election cycle. The current limit is just over $123,000.

Dan Fingas of the Long Island Progressive Coalition said the repercussions of a McCutcheon victory could be bad for New York State which already has what he said are numerous loopholes in its campaign finance laws.

"In New York State, you can give more money to a state senator than you can to the President of the United States, and that's really a bad scenario," Fingas said.

Critics say the Citizens United ruling two years ago plus the rise of "super PACs" have flooded the system with money and the McCutcheon case could open the taps wider.

Charlie Albanetti is with Citizen Action of New York, which advocates publicly financed elections. He said the Supreme Court arguments today will be watched carefully.

"If the Court were to decide on behalf of McCutcheon, it's very possible that the decision at the Supreme Court level could blow up our aggregate limits here at the New York level, which would be absolutely devastating and turn our elections into even more of a problem," Albanetti said.

Stephen Spaulding, an attorney for Common Cause, pointed out that New York, like 16 other states with aggregate contribution limits, could feel the impact of a ruling in favor of McCutcheon.

"Those are at issue," Spaulding said. "Depending on the logic of the opinion, the aggregate contribution limits in these states could also go by the wayside, depending on the decision."

The Moreland Commission created by Gov. Cuomo to investigate political corruption in Albany is due to release its findings on Dec. 1. Citizen Action has called upon the commission to include publicly financed elections in its recommendations.



Mark Scheerer, Public News Service - NY