VA Teachers Gear Up for "Day of Action"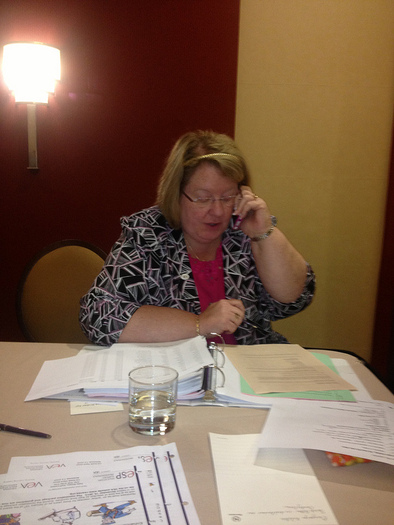 PHOTO: VEA President Meg Gruber recruiting members to participate in the October 19 Day of Action. Photo credit: VEA
October 17, 2013
RICHMOND, Va. – You might get a phone call or a visit from a teacher this weekend in Virginia.

The state teachers' union is mobilizing its members this Saturday for what it's calling a Day of Action.

Meg Gruber, president of the Virginia Education Association (VEA), says the goal is to raise awareness of what's on the line in next month's statewide elections, and to encourage voters to compare the candidates' commitment to public education.

"We'll be out knocking on doors and canvassing," she says. "Just anything we can do to make sure the citizens of Virginia realize there is an important election coming up, and encouraging them to get out and vote."

The VEA has endorsed Democratic Party candidate Terry McAuliffe over Republican Ken Cuccinelli. Gruber says McAuliffe has pledged to reverse school-funding declines, raise teacher pay and revamp testing programs.

Gruber says voter turnout in Virginia usually declines in the year after a presidential election, and she hopes that won't happen this year.

"And we just want to remind everyone that when it comes to public education, that it really is the governor who has a much bigger influence over that than the president of the United States does. "