Affordable Care Act is New Tool in Fight Against Breast Cancer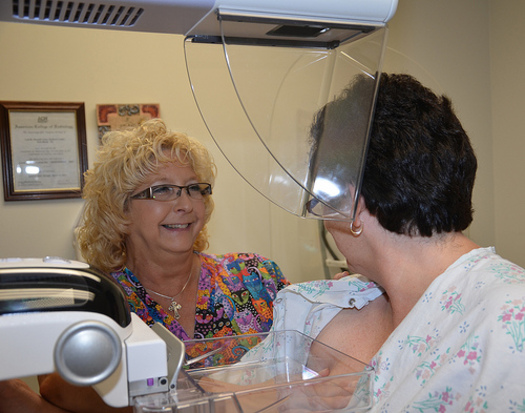 PHOTO: The fight against breast cancer has a new tool. The Affordable Care Act means women with preexisting conditions cannot be denied insurance coverage, and that coverage includes screenings and preventive care. Photo credit: Army Medicine.
October 21, 2013
TALLAHASSEE, Fla. - October is National Breast Cancer Awareness Month, and this year marks a major change for women's ability to get the health care services they need to diagnose and treat the disease.

According to Lynn Williams of the American Cancer Society Cancer Action Network, under the Affordable Care Act, women cannot be denied coverage because of pre-existing medical conditions, "and it is making cancer screenings and other preventive care available at no cost through some of the insurance plans that are being provided."

The preventive care includes annual mammograms for women starting at age 40.

Williams explained that getting regular exams and screenings is vital, as the sooner breast cancer is caught, the better the odds of survival.

"Early detection is key, and it is important for women to seek treatment as soon as possible when they are detected, because there are many advances in treatment for breast cancer, and many more survivors of breast cancer today than ever before," she said.

In Florida this year, almost 12,000 new breast cancer cases will be detected, and an estimated 2700 of them will be fatal.

Enrollment in coverage plans under the new health-care exchange is now in progress, with policies to take effect January 1.

More information is at bit.ly/1emrXbt.


Stephanie Carroll Carson, Public News Service - FL