Cancer Survivor: Donating For Research More Important Than Ever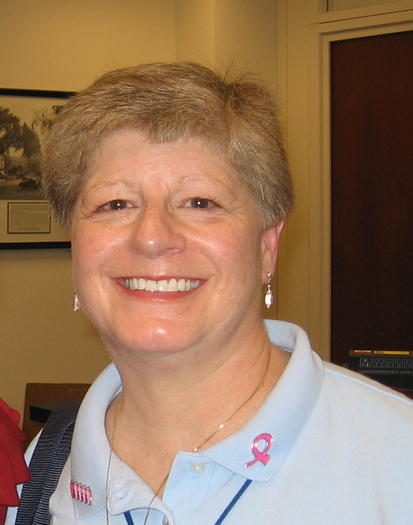 10-year cancer survivor Kathi Hansen says it's more important now than ever that people donate money to cancer research because of the cuts made by sequestration. Photo of Hansen used with permission.
October 28, 2013
WRIGHTSTOWN, Wis. - It has been 10 years since Kathi Hansen, Wrightstown, was diagnosed with breast cancer.

"People often say, 'The minute I hear that word cancer, I think, "Oh my gosh, I'm gonna die,"' so a lot of times people ask me what was my first reaction, and that was not my first reaction. My first reaction was, 'They've really made a serious mistake here, because I can't possibly have cancer,'" Hansen said.

Hansen eventually underwent a double mastectomy. She is now cancer-free and a very active volunteer and advocate, helping spread the message about good breast health habits and frequent exams.

"I got really involved in the American Cancer Society, the advocacy affiliate the Cancer Action Network and some other organizations, because it was really important for me to make something positive come out of something that was so negative," she added.

As Breast Cancer Awareness Month draws to a close later this week, Hansen said it's more important than ever for people to donate to organizations that fund cancer research, pointing out that the research has paid dividends for all cancer patients and their families.

According to Hansen, the lion's share of cancer research is still funded by the government through tax dollars. The National Institutes of Health funds cancer research and has been hit hard by cutbacks, she said.

"The cuts that have happened through the sequestration are devastating to the progress that's been made - not only that, but also to people's lives. There are people involved in those clinical trials who are now being shut out," Hansen warned.

Hansen credited her husband's support for helping her get through her ordeal and said it's important to reach out to people with cancer to let them know they don't have to go through it alone. She also said people should be aware that there are people with cancer living on borrowed time.

"For those women, they're not looking for a cure, they're looking for the best possible quality of life for however long they have - which in many cases may still be years, but they're living with cancer every day," she said.

Donations to fund research and fight cancer can be made at the American Cancer Society website, www.cancer.org.