Report: Changing Climate Gives NW Big Game "Nowhere to Run"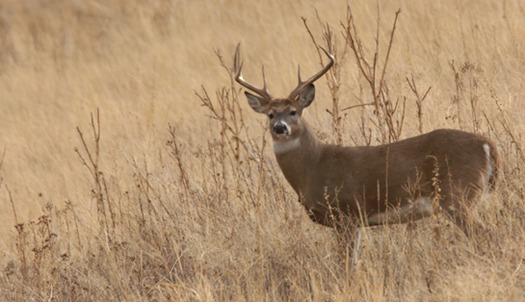 PHOTO: The warming climate is taking a lethal shot at big-game animals, according to a new report by the National Wildlife Federation that details the effects of heat, drought and disease on eight species beloved by hunters. Photo credit: US Dept. of Agriculture.
November 14, 2013
PORTLAND, Ore. – Hunters in the Northwest have to be observant just to bag their game – and a new report says this year, they'll also notice plenty of changes in the backcountry that are the result of a planet warming too quickly.

The National Wildlife Federation (NWF) says climate change is affecting big game species in many ways, with a lethal combination of heat, drought and disease.

Robert Brown, past president of The Wildlife Society, says it threatens to undo all the progress that has been made in managing big game populations in the past century.

"This is not some computerized projection by climatologists," he stresses. "This is a report by field biologists, most of whom are also hunters – the people who spend their lives in the field every day – and they're starting to see these changes happen."

The report says warmer temperatures are having a snowball effect – without the snow, changing game animals' migration patterns, food and water sources.

Bart George, a hunting guide and wildlife biologist for the Kalispel tribe, says less snowpack also affects the odds of some species, such as caribou, against wolves.

"They get up in that high country and they're safe from predators, when they're up in the snow, all through the winter," he explains. "So as the winter shortens, as that time frame goes down, they're spending more time in areas where they're more accessible. You know, obviously, predation goes up."

George adds research in the Northwest is also focusing on smaller species, such as the fisher and the wolverine, that depend on high-elevation snow to survive.

Oregon Fish and Wildlife officials confirmed an outbreak of adenovirus hemorrhagic disease among black-tail deer in Jackson County in September.

It has hit deer in Montana especially hard, where Alexis Bonogovsky lives and hunts. She's the tribal lands program manager for NWF.

"And because hemorrhagic disease occurs mostly during late summer and early fall," she explains, "what we saw this year was that the season's late freezing temperatures – which are now common – carried the outbreak well into October."

The NWF report says climate change needs to be taken into account in state and federal wildlife management policies and decisions. It also says hunters could do more to advocate for reducing carbon pollution and transitioning to cleaner energy sources.