Report: More Outreach, Support Needed for Kids of Parents in Prison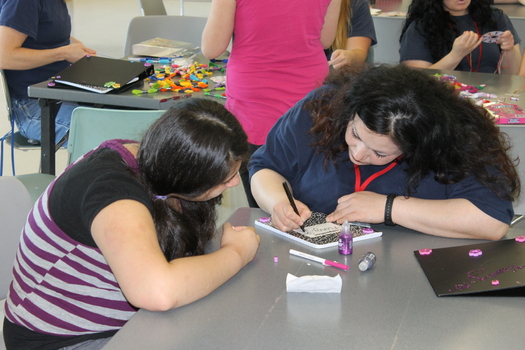 PHOTO: At the Coffee Creek Correctional Facility, girls visit an incarcerated parent twice a month as part of "Girl Scouts Beyond Bars," a unique troop that keeps moms and daughters in touch. Photo courtesy Girl Scouts of Oregon & Southwest Washington.
December 9, 2013
WILSONVILLE, Ore. - Holidays are bound to be tough for kids with a parent in prison, and that's the case for about 1.75 million children in the U.S. A new report from Volunteers of America says resources to support these children and their caregivers are limited.

For girls whose mothers are serving time at Oregon's Coffee Creek Correctional Facility, Wilsonville, the situation is a little better, thanks to Girl Scouts Beyond Bars. Their scout troop meets right at the prison, so that moms and daughters can spend time together.

According to program coordinator Cassandra Ross, it's also a firsthand look at the struggles of their families.

"I'm seeing that struggle every single day," she said. "The simple answer is, these families fall through the cracks sometimes, and are expected to just 'make it happen,' figure it out - or, it just doesn't get figured out."

The report says children with parents in prison often are invisible to teachers or child welfare workers because many don't tell anyone. They also are more likely to experience poverty and homelessness.

Ross said her program, through the Girl Scouts of Oregon and Southwest Washington, tries to discreetly piece together assistance or recommend resources as they learn about family situations.

The troop meetings, held twice a month, benefit the women as much as their daughters, Ross said. She added that affordable transportation is the chief obstacle for most inmates' families, and Girl Scouts Beyond Bars fills that critical role: Volunteers help get the girls to their visits.

"I have girls that get up at four in the morning to get to the facility by 8:30, so that they can visit with their moms for 2.5 hours. And for a 5-year-old, that's really intense," said Ross. "It's just unbelievable, the amount of dedication that these kids have to their mothers and the relationship that they want to maintain."

Girls Scouts Beyond Bars serves girls ages 5 to 18. There are about 50 in the troop, although Ross said Coffee Creek has 1,700 female inmates, so many more daughters could be part of the program with an approval from the prison and more funding and volunteers.

The report, "Little Children, Big Challenges: Children of Incarcerated Parents," is on the Volunteers of America website, www.voa.org.