Missourians Can Comment on Ozark National Scenic Riverways Plan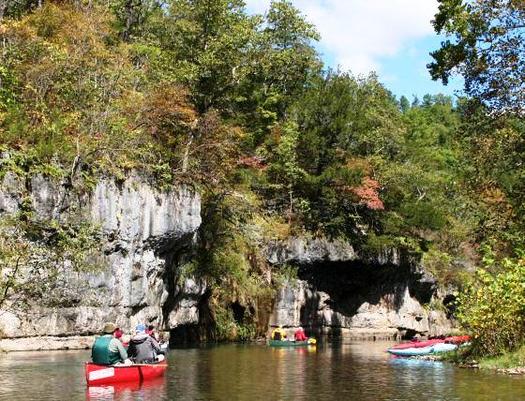 PHOTO: Visitors flock to the Ozark National Scenic Riverways to take in the beauty and enjoy water sports, and now Missourians can have a hand in shaping the future of the area. Photo courtesy Sierra Club Missouri Chapter.
December 9, 2013
ST. LOUIS - It's an opportunity that won't come around again for a couple of decades, which is why Missourians are being urged to make their views known on the future of one of the state's natural and economic treasures. According to John Hickey, director of the Missouri chapter of the Sierra Club, public meetings this week will help determine the National Park Service's management plan for the Ozark National Scenic Riverways, which he called long overdue.

"The park has been allowed to deteriorate due to excessive horse traffic in the river that has polluted the water, all-terrain vehicles driving on the gravel bars, illegal roads being built."

About 1.5 million people visit the park each year.

The public meeting are this week in Van Buren, Salem, and St. Louis, and comments on the draft plan also can be made online.

The plan will govern the management of the area, which is part of the national park system, for the next 20 years. Hickey said the volume of visitors, and the number of small businesses and jobs it supports, means the park's value to Missourians goes far beyond its natural beauty.

"Those visitors hire canoe rental groups, they buy gasoline, they buy food, they patronize campgrounds ... it's also a key part of the local economy," he declared.

The Ozark National Scenic Riverways includes the Current and Jacks Fork rivers. Public comments on the draft management plan will be accepted until January 8.

The draft plan, comment page and list of meetings are at NPS.gov. More information is at missouri2.sierraclub.org.