Coal-Prep Chemicals Called Threat to WV Water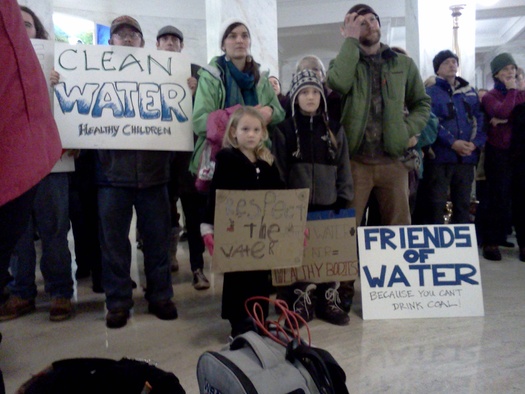 West Virginia clean-water protesters say they are concerned that coal-cleaning chemicals such as MCHM many be broadly getting into the state's water. PHOTO by Dan Heyman.
February 13, 2014
CHARLESTON, W.Va. - A lawmaker has charged that coal-washing may be leaching large amounts of MCHM and similar chemicals into West Virginia's water. MCHM is a foaming agent used to separate and float particles of coal away from rock and clay at some of the 100 or so West Virginia prep plants. Much of that agent and other chemicals end up in the slurry that is piped to huge waste impoundments.

Taylor County Delegate Mike Manypenny, co-chair of the Joint Oversight Commission on Water Resources, said the state Department of Environmental Protection (DEP) has just started testing the outflow from about a dozen prep plants and found MCHM at three of them. What comes from the plants gets into surface and ground water, he warned.

"None of these impoundments are lined. And if this is just an open pit that they're filling with this slurry, it's going to penetrate into the soil eventually, and reach the aquifer," Manypenny said.

Testing of Tuesday's Kanawha County slurry spill also found MCHM. A researcher close to the coal industry said the chemicals bind to the solids in the slurry and stay in the impoundments. But others described that as a largely untested theory, especially given how much of the chemicals pass through the prep plants.

Joe Stanley was a miner for about 20 years and follows prep-plant issues for citizen groups. He worked at a prep plant and estimated that they went through 2,500 to 5,000 gallons of chemicals a month, including MCHM.

"Hex-meth is what we called it. Not only did we use the MCHM, but we also used flocculants and different kinds of polymers. We had a truck making deliveries, usually on a bi-monthly or monthly basis," Stanley explained.

People who live in the coalfields complain that their well and spring water has been contaminated by slurry, and the science backs them up, he added.

"I've looked at the test results; I've talked to the people who own these wells and these springs. There are elements that are ending up in these systems," Stanley said.

The state legislature looks likely to more tightly regulate above-ground storage tanks, but Manypenny said lawmakers need to do a lot more about the coal-prep chemicals.

"We need better reporting on what chemicals are used in the prep plants, and peer-reviewed studies on the potential human health risks if this gets into the aquifer that people rely on well water from," Manypenny said.

The waste coming from the prep plants is not monitored or regulated for the chemicals.

A promised interview on the issue with a DEP official never took place.