Group Takes Aim at Plastic "Microbead" Pollution in Great Lakes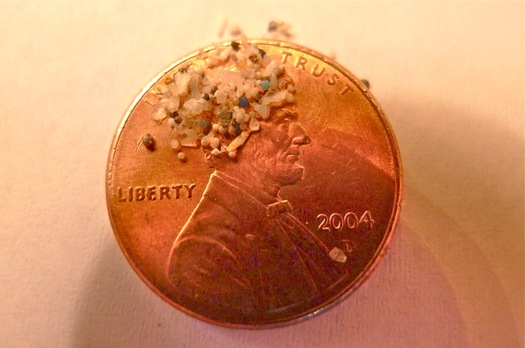 Photo: Tiny beads of plastic from facial and body cleansers have been collected from water samples in the Great Lakes, and the scientists who found them are now working to keep them out of the water system. Photo courtesy 5 Gyres Institute.
February 24, 2014
CHICAGO - Tiny plastic beads from facial cleansers and body scrubs have turned up in the Great Lakes at what a scientific advocacy group calls alarming levels that could pose a threat to water quality, wildlife and fish. It's calling on companies and consumers to be part of the solution.

These tiny bits of plastic get washed down household drains and are not being adequately captured by sewage treatment, said Stiv Wilson, director of communications and campaigns for the 5 Gyres Institute, who was part of a research team that sailed the Great Lakes collecting samples.

"That's the biggest problem with these facial cleansers is, they're not like other types of plastic pollution, where you could be recycling them or disposing of them properly," he said. "These are actually designed to go into the environment."

Five Gyres Institute is a nonprofit research group that studies the impact of plastic pollution in the environment and advocates for cleaning it up. So far, 5 Gyres has received commitments from several companies to eventually phase out their use of plastic microbeads.

In the meantime, Wilson said, people can take matters into their own hands by checking the ingredients on the cleansers they buy and use.

"Even if you look through the tube of, like, in a cleanser," he said, "if you see a bunch of suspended particles, chances are they're probably plastic microbeads."

He said the group is working on legislation in several Great Lakes states that would ban the sale of these products.

The study, which appeared in this month's edition of the Marine Pollution Bulletin, is available online at 5gyres.org.
Mary Kuhlman, Public News Service - IL