MN House OKs Workplace Protections for Family Caregivers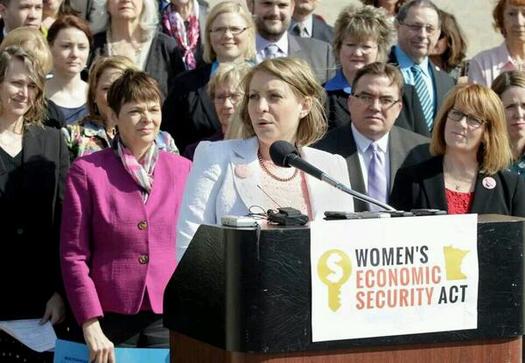 PHOTO: A bill passed by the Minnesota House, as part of the Women's Economic Security Act, aims to provide workplace protections for family caregivers. Photo credit: Deb Hilstrom
April 10, 2014
ST. PAUL, Minn. – Legislation that aims to give more support to those providing care for family and relatives has passed the Minnesota House and is moving on to the Senate for a vote.

The bill from state Rep. Carly Melin requires equal treatment for all employees, regardless of family caregiver or familial status.

"So can't be subjected to discrimination in promotion or hiring because of their status as a family caregiver or their familial status, meaning whether or not they have kids," she explains.

Currently, about 60 percent of family caregivers are employed, and that number is only expected to grow as the population continues to age, making the legislation also a priority for groups such as AARP Minnesota.

Among the supporters of the bill is Mary Anne Beers of Lake Elmo, who spent years trying to balance work and providing care to her parents.

At one time, she ended up quitting her job altogether to take care of her dying father, because her employer didn't have a time off policy for caregivers.

"There was sick time and vacation time, and I had accrued both," she relates. "And when I went and used that time I was being written up and verbally warned – and it's because there was really no system in place."

The caregiver bill is one of about a dozen included in the Women's Economic Security Act, which Melin says aims to address the pay gap between the genders.

"Nationwide, women are still only earning about 77 cents to the dollar," she says. "In Minnesota, it's 80 cents to the dollar for white women in the metro area, but when you get to greater Minnesota, like the area that I represent, it's actually down to 73 cents to the dollar.

"And for minority women, even as low as 57 cents to the dollar. So there still exists a pretty big pay gap between men and women."

Other bills in the act would expand family leave, increase access to affordable high-quality child care and examine a possible state run retirement plan for those who don't have access to a 401(k) at work.