Support Grows for "Clearing the Waters" of the Clean Water Act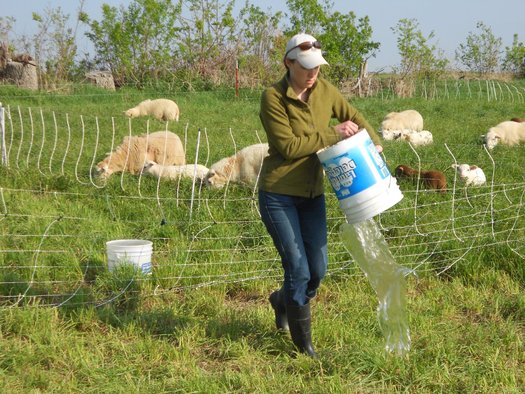 PHOTO: A new rule clarifying where the Clean Water Act applies seems to be drawing a lot of support from farmers like Steph Larsen, seen here watering her sheep. Photo courtesy of Steph Larsen.
April 14, 2014
PHOENIX - A change in federal clean-water rules appears to be popular with some major stakeholders, especially farmers, hunters and anglers. Two federal court decisions had muddied the rules on where the Clean Water Act applies, but a new revision has been proposed to clarify the issue.

According to Jan Goldman-Carter, senior manager, wetlands and water resources for the National Wildlife Federation, people who deal with the Clean Water Act are happy to have the matter resolved. She described the confusion as a complicated mess.

"It's been wasteful, it's been time-consuming, and it's been expensive on all sides," she declared.

According to the EPA, roughly half of all Arizonans get some of their drinking water from streams that only flow seasonally, after it rains, or are headwaters. Larry Harris, a long-time fly fisherman and an officer with Trout Unlimited, said trout also need clean headwaters to spawn, so the fish are the "canaries in the coal-mine" for people.

"When that water gets downstream to where people are, sometimes that's used for water, drinking water," Harris said. "So, clean streams are good for trout, but they're also good for people."

The EPA lists Arizona's San Pedro River as an "enforcement challenge," because it has been so difficult to prove the river is covered by the Clean Water Act. The San Pedro supports diverse wildlife, but has been polluted by storm water runoff from construction sites.

Many farmers had voiced concerns that for them Clean Water Act rules could grow to become burdensome. But Steph Larsen, a farmer who also works with the Center for Rural Affairs, said her sense is that farmers are relieved to learn that isn't the case with the new proposal.

"The exemptions related to agriculture are still the same exemptions," Larsen said. "When I talk to farmers about the rule, they really talk about how important water is to their farm, and how glad they are that there's some clarity to what these rules mean."

The revision doesn't add any new regulations on farms, and outdoor groups have said they're glad clean water rules would apply to many wetlands and headwater streams. The EPA is taking comments on the proposed rule now.

More information is at EPA.gov.


Doug Ramsey, Public News Service - AZ