Report: Young VA Wildlife Need TLC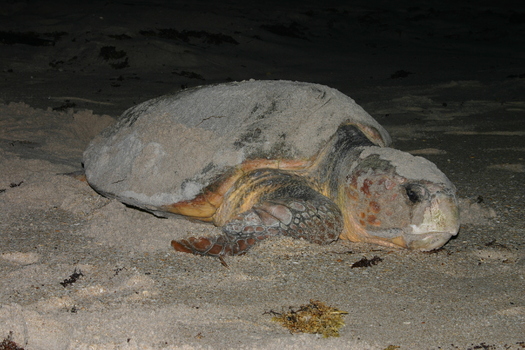 PHOTO: A report released today by the National Wildlife Federation outlines how young critters, such as sea turtles in Virginia, are facing new challenges because of climate change. Photo credit: NOAA
May 7, 2014
RICHMOND, Va. - Spring means baby season for wildlife. A report released today by the National Wildlife Federation outlines how young critters are facing new challenges because of climate change.

Chelsea Harnish, climate and energy manager at the Virginia Conservation Network, said brook trout fingerlings need extra-cold water to thrive, and rising temperatures also create an unusual problem for turtle eggs.

"If turtle eggs are incubated at 88 degrees Fahrenheit or above, hatchlings are more likely to be female," she said. "Warmer temperatures could create a gender imbalance among turtle hatchlings."

The report highlighted problems for puffins, migratory species, bears and penguins, as well as success stories for antelope and river otters where habitat preservation has helped them be more resilient and adapt to climate change.

Harnish said wildlife is a connection to the land that's important to everyone. Atop the list of recommendations was reducing carbon pollution, with the primary source being coal-fired power plants.

"We need to invest in clean-energy development," she said, "and intensify energy-efficiency efforts to reduce dependence on the fossil fuel-based carbon pollution that is driving climate change."

The report also called for safeguarding wildlife habitat to enhance animals' ability to adapt to the changing climate.

The report is online at nwf.org/wildlifelegacy.