Efforts to Close "Painful" Loophole in Animal Slaughter Regs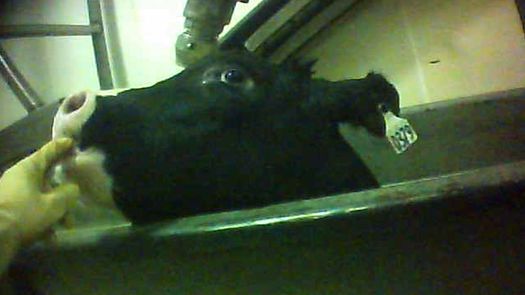 PHOTO: This photo of a "downer calf" is part of an undercover investigation of a veal slaughter plant in Shrewsbury, N.J. Photo courtesy Humane Society of the United States.
May 14, 2014
NEW YORK - Some see it as a "painful" loophole in animal-slaughter regulations. It affects so-called "downer calves" in the Tri-State area: cattle that are on the ground and can't get up.

Federal law currently prohibits the slaughter for food of adult cattle that are too sick, injured or weak to stand on their own, said Paul Shapiro, vice president for farm animal protection at the Humane Society of the United States. However, a loophole in the law does not protect younger, veal calves in the same situations.

"There needs to be a federal rule that would ensure that slaughter plants - in New York, in New Jersey and across the country - are operating by some very basic 'rules of the road' that are designed to prevent torture of animals," he said.

New York's Kirsten Gillibrand and New Jersey's Cory Booker are among a dozen U.S. senators who are calling on the U.S. Department of Agriculture to close the loophole and prevent the slaughter of downer calves for food.

Shapiro said his group recently documented inhumane treatment of downer calves during undercover investigations. One documented conditions at a veal slaughter plant in Shrewsbury, N.J.

"What we documented on hidden camera were animals who were too sick or injured or tired even to stand up and walk to their own slaughter; being dragged with chains, being prodded," he said. "It was a real house of horrors for these calves."

Shapiro said the senators have pointed out, in a joint letter to the USDA, that it has been four years since the Humane Society requested what they believe is common-sense legislation but, to date, the agency has not even offered a proposed rule.

The senators' letter to the USDA is online at humanesociety.org.