New EPA Rules Would Reduce Air Pollution from Oil Refineries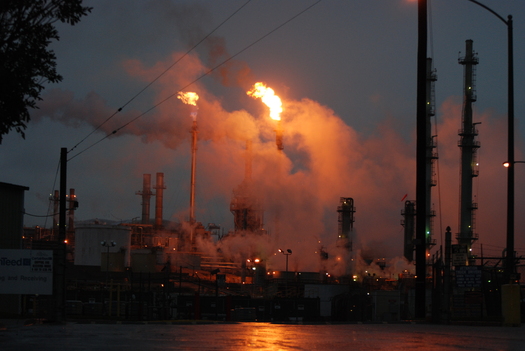 PHOTO: Oil flares like this one in the Los Angeles area are a common sight at refineries. The EPA is proposing rules for refineries to monitor and minimize toxic air emissions. Photo courtesy Jesse Marquez, Coalition for a Safe Environment.
May 19, 2014
ANACORTES, Wash. - The Environmental Protection Agency (EPA) is proposing new federal requirements for oil refineries to monitor and minimize their airborne emissions.

Washington's five oil refineries have already been in court in recent years for emitting the types of pollution that cause climate change, and state agencies have been sued for failing to adequately regulate them. As waste gas is burned in a process known as "flaring," benzene is among the chemicals of concern.

Cary Nysson, regional director of advocacy, American Lung Association, describes it as a precursor to ozone in the atmosphere that affects people with conditions like asthma and COPD.

"It's also a carcinogen, so it actually causes cancer in humans. It also causes irritation of the skin, eyes, nose and throat, and it can cause impaired function of the lungs - even in healthy people, at certain levels," Nysson says.

The EPA is asking for public comment this summer, with final rules expected next spring.

The proposal calls for improved combustion efficiency requirements for burning waste gas, and would require onsite benzene monitoring. Attorney Emma Cheuse with Earthjustice thinks that's especially important for protecting children's health.

"As Americans, none of us want our kids to have to face extra cancer risk just because we happen to live near an industrial plant, and EPA is taking a really important, common-sense step," Cheuse says.

Nysson adds there's been a lack of detailed public information about air quality around refineries.

"It's good to know what's in our air, it's good for industry to know what they can do to make healthier communities," says Nysson. "And I think one of the first steps to doing that is to knowing what kind of emissions that there are around these plants. So, I think it's a great first step."

The proposal comes after Earthjustice and the Environmental Integrity Project filed a lawsuit on behalf of groups in California, Louisiana and Texas. It said flaring is a key source of air pollution in the refining process.