Green 'Times Three' Generates $3.7 Million in Grants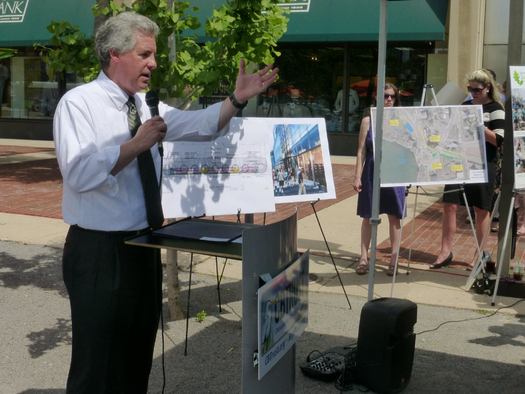 PHOTO: EPA Regional Administrator Shawn Garvin announces $3.7 million in grants for "green streets" projects. Photo credit: Chesapeake Bay Trust.
June 19, 2014
BALTIMORE - New grants totaling $3.7 million are on the way to local nonprofits, towns and schools to carry out projects for the "Green Streets, Green Jobs, Green Towns" partnership. The Chesapeake Bay Trust, Maryland Department of Natural Resources and the Environmental Protection Agency (EPA) announced the funding Wednesday.

"Greening the streets" makes communities more attractive, and new plants and grass along roads and waterways help filter out contaminants that would otherwise end up in Chesapeake Bay.

"The whole idea is to put sustainable, green projects on the ground that benefit the quality of life in each community," says EPA regional administrator Shawn Garvin. "Those local benefits also benefit restoration efforts in the Chesapeake Bay and improve water quality."

Most projects are in Maryland, with a few in the District of Columbia, Pennsylvania, Virginia and Delaware. Many include tree-planting, pedestrian access improvements and stormwater management.

Garvin says the projects carry value beyond each neighborhood.

"Not only are we investing in these projects helping these communities, but they really become a living classroom for other communities to see how to do these things," says Garvin.

The latest round of grants is the largest amount awarded in the history of the program.