WA State Workers Defend Union Fees after SCOTUS Ruling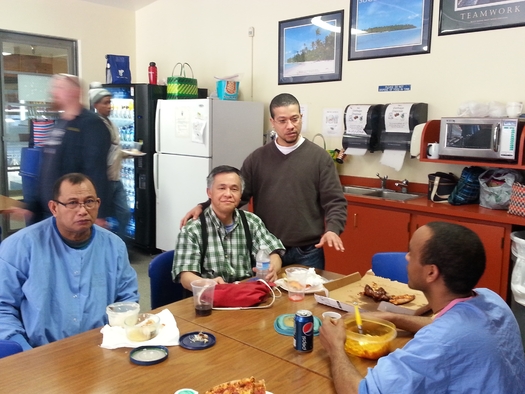 PHOTO: Washington Federation of State Employees shop steward Claude Theard (standing) talks with workers at the University of Washington as part of the union's grassroots effort to reach out to non-members who pay a representation fee, and invite them to become full union members. Photo courtesy of WFSE.
July 1, 2014
OLYMPIA, Wash. - The U.S. Supreme Court ruled in a 5-to-4 decision on Monday some types of workers don't have to pay union dues if they don't want to be union members. The Illinois case involved home-care aides whose clients' services are paid for by the state, but who aren't technically state employees.

Similar types of contractors pay a "representation fee" to the Washington Federation of State Employees (WFSE), including medical interpreters. Leroy Mould, president of Local 1671 Interpreters United, says the interpreters know they've gained better wages, benefits and training as a group than they could have as individuals.

"We are not going to be swayed by this," says Mould. "Like any other organization, you're going to have some disagreements about particular things. But for the most part, we have enthusiasm and energy that greatly outweighs any dissent."

He says the decision may signal a need for unions to better communicate their value to all paying members. WFSE says it is already doing that, with home and office visits to answer questions and encourage people's participation.

SEIU 775 Northwest represents 35,000 individual home-care providers who assist Medicaid clients for the state. Spokesman Jackson Holtz says they're studying the Harris v. Quinn decision and, at first glance, don't think it will make much of an impact in Washington.

"We believe we've had a far more robust collective bargaining model," says Holtz. "We've been able to achieve not just a 40 percent increase in wages, but also vacation time, training and other benefits that we just don't see reflected in the Illinois worker that the Harris v. Quinn decision applies to."

The union argument in the Supreme Court case was that state workers' rights are determined by state law, so the Legislature would have been the place to try to change them, not the court.

Megan Parke, WFSE organizing director, says the union is pleased the court didn't go as far as it could have - but she warns it's part of a battle that isn't over.

"Absolutely, this case is about trying to weaken unions," says Parke, "but it's not going to be that easy to keep us down."