It's Now Wait and See for Future of Marriage Equality in Ohio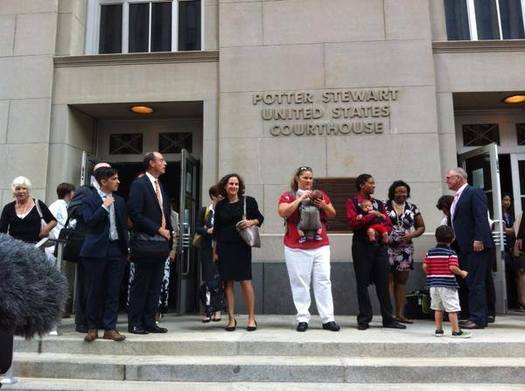 PHOTO: Two lawsuits from Ohio were among six same-sex marriage cases heard before the Sixth Circuit Court of Appeals in Cincinnati on Wednesday. Photo credit: WMMO.
August 7, 2014
COLUMBUS, Ohio – A U.S. Court of Appeals in Ohio was the latest battleground in the fight over marriage equality.

On Wednesday, the Sixth Circuit Court of Appeals in Cincinnati heard arguments in six same-sex marriage cases from four states.

Two lawsuits involve Ohio couples seeking recognition of their out-of-state marriages.

Mike Premo, campaign manager for Why Marriage Matters Ohio, says now supporters will just wait and see for the court's decision.

"Thirty out of the last 30 court rulings in a row have been in the favor of marriage equality," he points out. "We've seen two Circuit Courts of Appeals uphold the freedom to marry in other states and we're confident the Sixth Circuit will continue that momentum."

Gov. John Kasich is among those supporting efforts to uphold Ohio's constitutional ban on gay marriage, saying marriage should be between a man and a woman.

But opponents say same-sex couples should be afforded the same security and protections as heterosexual couples.

Premo says regardless of whatever the Sixth Circuit Court decides, the issue of same-sex marriage will likely go to the U.S. Supreme Court next year.

He maintains Ohio is missing out on the economic opportunities marriage equality could bring just through the revenue from wedding ceremonies.

And he says businesses also are put at a disadvantage because they are missing out on some top talent.

"Companies often recruit people from out of state, and there are people who are looking at jobs, looking to move, who are not willing to go to a state where their relationship would not have legal recognition," he explains.

An April Quinnipiac University poll found Ohio voters are essentially split on the issue of marriage equality.

Premo says the more same-sex marriage becomes a topic of conversation, the more attitudes will change about the right of all couples to marry.

"We know from Ohio and from other states that when people talk about marriage equality people think about it and the more support continues to grow," he says. "And that's what we are asking folks to do is have those conversations. "

Nineteen states and Washington, D.C. recognize same-sex marriage.