Gallup Poll: New Mexico's Uninsured Rate Drops 5 Percent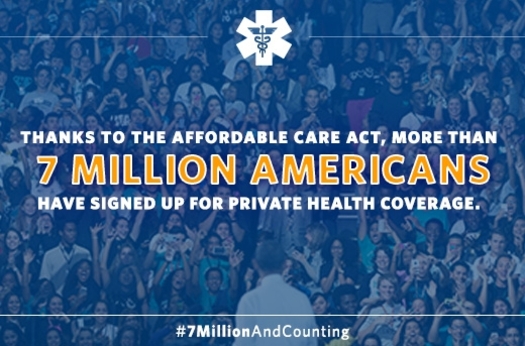 PHOTO: New Gallup research shows the number of people without health insurance in New Mexico has dropped sharply since the Affordable Care Act took effect on Jan. 1, 2014. Photo courtesy of The White House.
August 11, 2014
SANTA FE, N.M. – The number of people who don't have health insurance in New Mexico has dropped by 5 percent since the Affordable Care Act (ACA) started at the first of the year, according to a recent Gallup poll.

The research shows the state's uninsured rate fell from 20 percent to 15 percent in the first half of 2014.

Matt Kennicott, director of external affairs at the New Mexico Human Services Department, says Medicaid expansion has a lot to do with the trend.

"The governor did announce Medicaid expansion last year, and since that announcement, we've added over 140,000 individuals to the program," he adds.

Kennicott says the federal government is fully funding New Mexico's Medicaid expansion, which is directly linked to the Affordable Care Act.

He says about 700,000 New Mexicans are now insured under Medicaid.

Kennicott points out another factor in the new figure is that 38,000 people in the state now have health coverage made available through the ACA.

He says those getting insurance are among New Mexico's lowest-income residents.

"We're talking about individuals and families with incomes at or below 138 percent of the federal poverty level," he says. "For an individual, that's about $15,000 a year. For a family of four, we're talking just under $30,000 a year."

Kennicott predicts having more residents with health coverage should help the economy, since healthier people take fewer sick days from work, and also are more productive when they're on the job.