Williams Death: Even Successful People Experience Mental Illness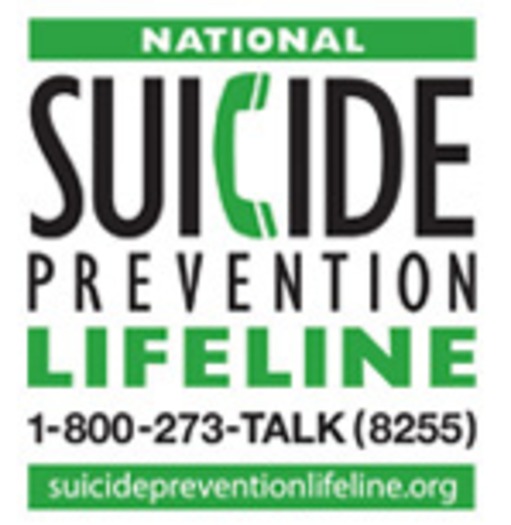 PHOTO: Even before actor Robin Williams died of apparent suicide, a local mental health professional says calls were already on the rise to 800-273-TALK. Granite Staters need to know the warning signs to prevent suicide. Graphic courtesy of the National Suicide Prevention Hotline.
August 14, 2014
CONCORD, N.H. – It can be shocking when someone as successful as actor Robin Williams takes his own life, but suicide prevention advocates in the Granite State caution not to be fooled by success.

Suicide ranks as the number two cause of death for people in New Hampshire under the age of 34.

Elaine de Mello, connect supervisor of Training and Prevention Services with the National Alliance on Mental Illness, says people can make incredible contributions at their jobs and with their families, even while they are suffering from a serious brain disorder such as depression.

"It's confusing to people," she admits. "Why would someone so successful, who seems to have everything that anyone could need or want take his own life?

"And I think what people don't understand is, it's not a choice. It's a brain that's not working clearly that doesn't see the options."

Even before Williams apparently took his life, de Mello says calls were already on an increasing trend at the National Suicide Prevention Hotline since 2013.

She calls that good news because people are reaching out for help. Professional staff in Lebanon handle the calls at 800-273-TALK.

In almost every case, de Mello says there are warning signs before a suicide.

She says it's important to watch for those clues and to take action to get help.

"They may start to get very agitated, or they may get very, very quiet," she explains. "Sometimes they suddenly look happy, and that should be a warning sign – particularly if that's unusual when somebody's been down, because it may mean they have now come to terms with the decision to take their life and they feel relieved."

De Mello says with help, most people who suffer from depression can get past the impulse to attempt suicide.

She stresses that this point is especially important for people who may be impulsive, like teenagers.

"Youth suicide prevention is important because some of them aren't struggling with significant mental illness, but they are struggling with impulse-control disorders," she says. "And, you know, they have a bad day and then they think, well I'm just going to kill myself, and they're not thinking clearly about what's going to happen next."