Warming Climate Brings Greater Numbers of Bugs and Outdoor Pests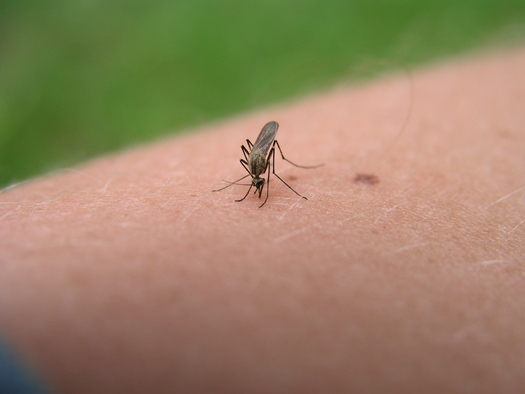 PHOTO: Climate change is projected to bring about an earlier emergence of mosquitoes in the spring, and could bring certain disease-carrying varieties not normally found in Michigan to the state, according to a new report from the National Wildlife Federation. Photo courtesy of National Wildlife Federation.
August 21, 2014
ANN ARBOR, Mich. - It's been an itchy few months for Michiganders, with the state experiencing a bumper crop of biting bugs. Experts say the abundance in bugs is the result of climate change, along with a host of other issues.

Dr. Doug Inkley, a senior scientist with the National Wildlife Federation and a Michigan State University alum, authored a new report which finds populations of mosquitoes and ticks are exploding due to the rise in extreme weather events and shifting timing of seasons. He says climate change is even making invasive species like poison ivy more poisonous.

"That toxin with higher carbon dioxide changes its chemical formula to some extent," said Inkley, "and becomes more toxic."

Inkley points to the Environmental Protection Agency (EPA)'s proposed limits on carbon pollution as a good step toward reducing the impact of climate change and preserving Michigan's rich outdoor legacy.

B.J. Baule, a Michigan-based climate research associate with Great Lakes Integrated Sciences and Assessments, says if nothing is done the typical Michigan summer won't be the only thing at risk.

"If winters change as projected, activities and experiences that we typically associate with winter, snow machining, ice fishing, skiing, will become less feasible," says Baule. "It can result in a loss of identity with the we location exist in."

Inkley notes outdoor recreation has major economic implications for Michigan.

"In 2011, according to the national hunting and fishing survey, some 4.4 million people in Michigan participated in wildlife-associated outdoor recreation," says Inkley. "In Michigan alone they spent some six billion dollars."

The report, Ticked Off: America's Outdoor Experience and Climate Change, is online at the National Wildlife Federation website.
Mona Shand, Public News Service - MI